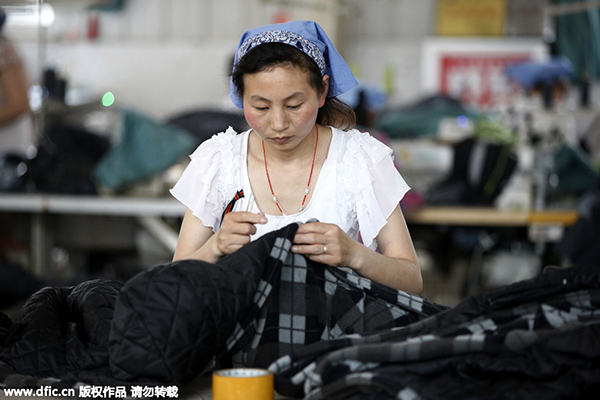 A female Chinese worker sews clothes at a garment factory in Huaibei city, East China's Anhui province, June 1, 2015. [Photo / IC]
China's foreign trade is likely to see positive full-year growth in 2015, although it may experience single-month declines, the Ministry of Commerce said on Wednesday.
Shen Danyang, spokesman for the ministry, said that even though China's foreign trade seems weaker than expected because of lower global demand and rising production costs, the country has continued to optimize its range of products and approach to the global market through new trade routes and regional cooperation arrangements.
China encountered a notable drop in trade in the first seven months of this year, with foreign trade falling by 7.3 percent year-on-year to 13.63 trillion yuan ($2.23 trillion), according to the General Administration of Customs.
"The situation we face is more complicated than expected due to lots of uncertainties and insufficient demand," Shen said.
Major developed and emerging economies also experienced declines, with exports falling by 5.2 percent in the United States, 8.1 percent in Japan, 16 percent in India and 14.7 percent in Brazil in the first half of this year, according to the World Trade Organization.
"But strong momentum was seen in exports to countries along the 'Belt and Road Initiative'," Shen said.
China's exports increased by 9.8 percent to India, 16.3 percent to Thailand and 12.5 percent to Vietnam in the January-to-July period.
Export volume from the private sector rose by 4.6 percent year-on-year to $564.3 billion in the first seven months, accounting for 44.7 percent of the country's total exports.
Meanwhile, exports of electromechanical products including ships, trains and smartphones rose by 1.3 percent year-on-year to $723.8 billion.
For example, Nantong COSCO KHI Ship Engineering began this month to build its first vehicle carrier powered by liquefied natural gas, which can transport 3,800 cars, in a bid to compete with South Korean shipbuilders and grab more high-end ship orders in the global market.
The shipyard in Jiangsu also plans to build its first LNG carrier later this year, and it intends to have an annual production capacity of two LNG carriers by 2018.
The added value and technical content of LNG carriers are much higher than those of oil tankers, and they must be equipped with tanks that can resist extremely low temperatures, said Han Chengmin, president of Nantong COSCO.
Gu Xuebin, vice-president of the Chinese Academy of International Trade and Economic Cooperation, a Ministry of Commerce think tank, said that even though the double-digit growth era is over, exports remain crucial to the Chinese economy.
As the country upgrades its industry, China is gaining strength in mid-and high-end product exports and also has moved up the value chain, Gu said.
Without any major negative factors, China's foreign trade volume is projected to see relatively steady growth in the second half of the year, Gu said.