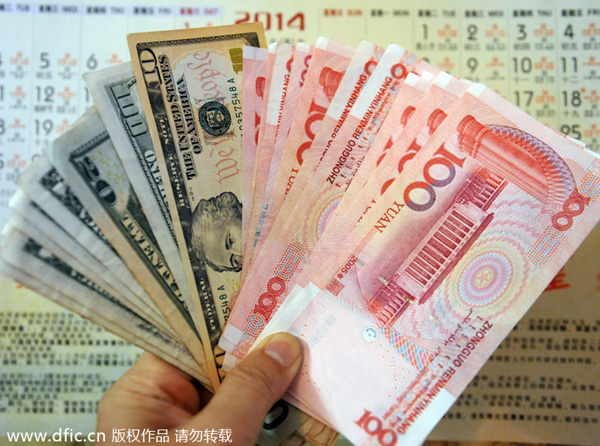 A Chinese resident displays his Chinese currency and US dollar banknotes in Qionghai city, South China's Hainan province, March 15, 2014. [Photo/IC]
Not export stimulus
Analysts have dismissed the idea that the central bank's move is China purposely adopting a currency devaluation strategy to counter a slump in exports.
Official data showed Saturday that exports fell to 7.75 trillion yuan ($1.24 trillion) in the first seven months of this year, down 0.9 percent from a year ago. In July, exports declined by 8.9 percent.
"Exports have indeed been soft this year, but this is largely a reflection of sluggish external demand," the HSBC said in a research note.
"In an environment of a soft global recovery, the benefits of beggar-thy-neighbor competitive devaluation are neither clear nor easy to reap."
The HSBC believes Chinese policy makers have sufficient policy ammunition to boost domestic demand to offset external headwinds.
"Both monetary and fiscal policies are becoming more accommodative and better coordinated, as evidenced by the reports that policy banks will issue more than 1 trillion yuan of financial bonds to support infrastructure investment."
The HSBC forecast an additional 25 basis points (bps) interest rate cut and 200 bps reserve ratio cut in the second half of this year.
"The combination of monetary and fiscal policy support should help ensure that the economy on a path of cyclical recovery and achieve the growth target of around 7 percent." it added.