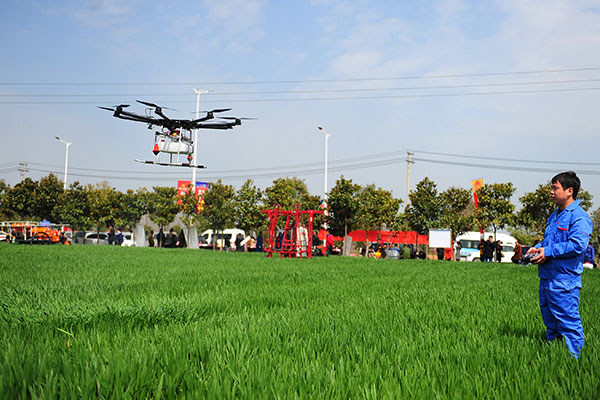 A farmer is using drone to spray crops with fertilizer. [Photo/China Daily] 
A new breed of tech-savvy farmers and agricultural merchants are springing up, and using the Internet to boost their incomes
Sweat is dripping off Qiao Xuebao as he walks through a maze of greenhouses that contain seedlings for household plants in five million pots.
His operation in the rural area of Suqian city in the eastern province of Jiangsu stretches across 50,000-square meters, roughly the size of seven soccer pitches.
In the summer, the work is hard as he copes with the hot and humid conditions, but this is the best time of the year for Qiao's business.
Even though he has invested 50 million yuan ($8 million) on expanding his greenhouse network, he still worries that he does not have enough plant pots.
"Do not ever underestimate the demand for pot plants," the 38-year-old said while declining to reveal detailed financial figures for his Sutai Yuanyi company. "Through e-commerce, you can sell them to every corner of China and direct to consumers as well as stores such as florists."
Just like the way the Internet has become part of everyday life, e-commerce is changing the landscape of the agriculture sector in China by helping the country's new breed of small and medium-size farmers greater access to sell their products.
Qiao, who employs a 20-strong workforce, is just one of 100,000 farmers and merchants on Taobao Marketplace, the shopping platform owned by e-commerce giant Alibaba Group Holding Ltd. These businesses are starting to cash in by selling products, ranging from pesticides to fertilizers, seedlings to plants and even farm tools to tractors, online.
The industry has such great potential that Taobao even launched a dedicated shopping channel last month just for the sector. JD.com, Alibaba's biggest e-commerce rival in China, quickly followed suit within a few weeks.
A glance at the figures illustrates the scale of the market for farming goods and equipment, which hit 2.3 trillion yuan ($371 billion) in China last year. While there are no online numbers as yet, Taobao has reported that overall sales have grown at an annual rate of 180 percent during the past three years even before it rolled out a dedicated channel.
"By removing middlemen, farmers can find more options and better deals through e-commerce, which leads to lower production costs and rising incomes," Ma Zhaoqiang, whose company Feixiang Nongzi has been selling fertilizers on Taobao's online store since 2012.
Ma lives in Linyi city in east China's Shandong province and his fertilizers are 50 percent cheaper than local stores because he sells direct to farmers.