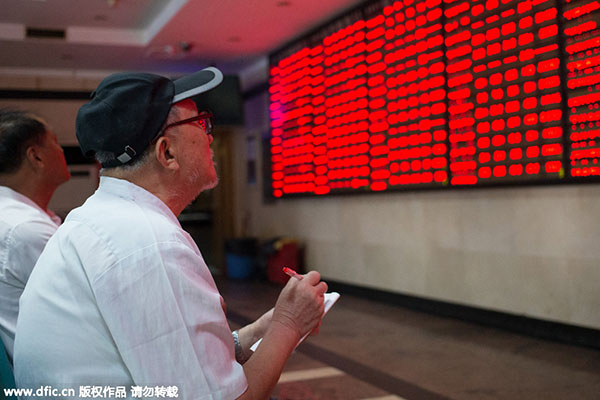 Chinese investors look at prices of shares at a stock brokerage house in Nanjing city, East China's Jiangsu province, August 7, 2015.[Photo/IC]
China's securities regulator said on Friday that maintaining stock market stability and restoring investor confidence are still its top priorities, despite the recent turbulence which dampened market sentiment and trading volume.
The regulator has met with all major securities brokerages and funds and urged them to better control their margin trading and short sales business, both of which have been blamed for the recent roller-coaster ride in the A-share market, according to Deng Ge, the spokesman of the China Securities Regulatory Commission.
Zhang Yujun, assistant chairman of the CSRC urged financial institutions to prudently control their scale of assets in leveraged trading and said these should be appropriately matched with the capital position and risk management capability.
Zhang also reiterated that the regulator has banned risky margin financing through non-brokerage channels and will step up the crackdown on using program trading to "maliciously" short the market.
Deng told a news conference on Friday that the regulator will also target speculative trading of stock index futures and prohibited futures companies from offering margin lending for clients to trade futures contracts.
The A-share market rallied on Friday, with the benchmark Shanghai Composite Index rising 2.26 percent to close at 3,744.2 points. The smaller Shenzhen Component Index gained 2.67 percent to close at 12,753.05.
US investment bank Goldman Sachs Group Inc has estimated that the Chinese government has injected up to 900 billion yuan ($147 billion) in the past two months to try to prevent a market meltdown.
Bloomberg also reported that State-owned margin lender China Securities Finance Corp has been seeking an additional 2 trillion yuan to buy stocks. The move would bring its total market-rescue fund to 5 trillion yuan.
The government has also adopted a series of measures to halt the recent market rout that wiped out nearly $4 trillion in market value. The regulator has halted new share offerings and banned major shareholders from selling shares in their companies for six months.
Rumors that the regulator may once again permit listed companies to augment capital with additional share issues have also weighed heavily on market sentiment.
Xu Biao, chief strategist with Essence Securities Co said the move will hit the market in the short term, but will dissipate in the long term.
On Friday, the regulator said it will continue to clamp down on insider trading which has seriously hurt the market order and investor interest.
Deng said the market regulator will specifically target the act of prying for non-public information through advantageous social connections and leaking market-sensitive information through online social networks.