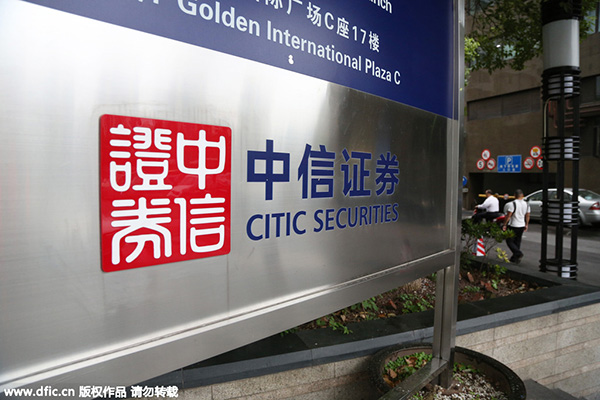 Signboard of CITIC Securities in Shanghai, Sept 22, 2014. [Photo/IC]
BEIJING - China's top securities broker, CITIC Securities, responded on Sunday to claims that it has short-sold Chinese shares.
On Friday, the Shanghai and Shenzhen exchanges restricted trading of 24 accounts as they were suspected of misleading other investors by frequent orders and cancellations.
One of the accounts used to be owned by two shareholders, a foreign hedge fund and the Shenzhen-based CITIC United Venture Investment Co Ltd, a subsidiary of CITIC Securities.
Market rumors began that CITIC Securities had ganged up with foreign hedge funds to short-sell Chinese stocks.
In response, CITIC Securities said the historical investment started in 2010, but ended after the company transferred its equity in November 2014. It does not own the hedge fund's stock rights any more, a CITIC source said.
Besides, the previous investment, which was $1 million and accounted for 20 percent of the hedge fund's total equity, was "small scale" and CITIC did not participate in the hedge fund's operation or management, according to the source.
CITIC insisted it will support the government's regulatory measures to stabilize the stock market.
After the massive sell-off since mid-June, the Chinese government has unveiled a slew of measures to prop up the market, including reducing the number of new shares to avoid a shares glut, a police crackdown on short-selling and a six-month ban on big shareholders selling stocks.
Before the market took a downturn on June 12, the Shanghai composite had risen by 152 percent since July 2014 and nearly 60 percent since the beginning of the year, galloping far ahead of economic fundamentals during the period.
Chinese shares continued to drop on Friday as investors showed caution in the shadow of the earlier market stampede. The benchmark Shanghai Composite Index shrank 1.13 percent to close at 3,663.73 points. The smaller Shenzhen Component Index fell 0.18 percent to close at 12,374.25 points.