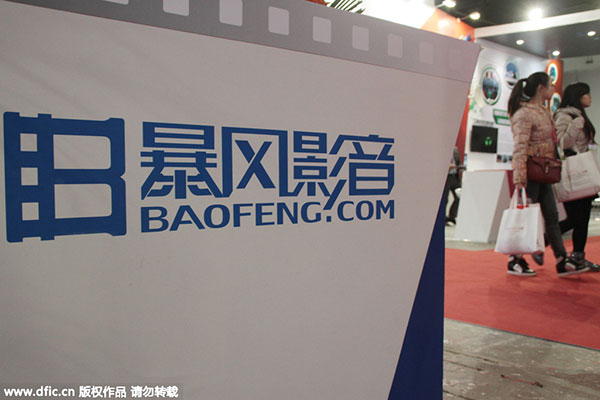 The booth of Baofeng Technology Co at an exhibition in Beijing, Dec 11, 2014. [Photo/IC]
Baofeng Technology Co, whose 45-times rally lured dozens of US-traded peers to reconsider home listing, has lost more than half of its market value since its peak amid the rout.
The stock, which made its debut on March 24 with an offer price of 7.14 yuan, was trading as high as 327 yuan by May before falling 56 percent within three months.
The Shenzhen-listed firm closed at 166.4 yuan, down 1 percent, on Wednesday.
Decline of the once highest-flying A-share stock coincided with the market slump, as the benchmark Shanghai index earlier the month retreated as much as 30 percent from its June 12 peak.
Shift in the sentiment of institutional investors is to be blamed for Baofeng's decline, which held a combined 21.1 percent of its circulating shares by the end of second quarter, according to China Business News.
The company's stakeholders included large fund companies such as Bosera Fund, GF Fund Management, Manulife Teda Fund Management and ABC-CA Fund Management.
With a flat performance, it's hard to say whether Baofeng's share price will ever bounce back to the 300-yuan range. The sentiment has changed, said fund managers who once backed its rally to the newspaper.