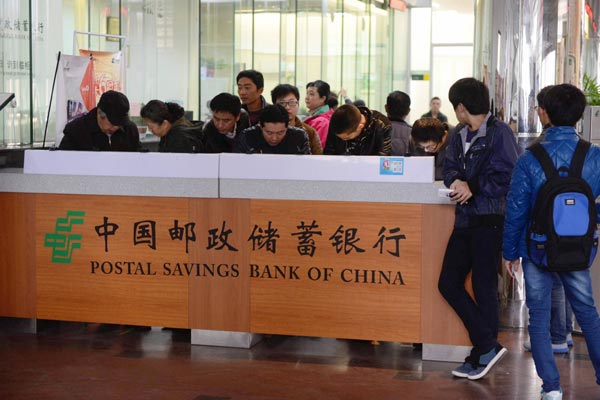 Customers at a Postal Savings Bank of China Co branch in Qingdao, Shandong province. The bank has about 40,000 outlets nationwide and more than 470 million customers. [Photo/China Daily]
Postal Savings Bank of China (PSBC) IPO, the country's six biggest commercial lender by assets, is accelerating fundraising from strategic investors ahead of a planned initial public offering (IPO), the bank's Vice Governor Xu Xueming told reporters on Thursday.
Domestic media said in February the state-owned bank was planning a $25 billion IPO next year, matching the size of Alibaba Group Holding Ltd's debut on the New York stock exchange in 2014 -- the largest global listing.
Xu, speaking at a conference hosted by the China Banking Regulatory Commission in Beijing, said PSBC has been following "three-step" roadmap guidance from the Chinese authorities.
The bank was restructured into a joint stock institution in early 2012 as the first step, he said, adding that after introducing strategic investors, the bank will go public.
"Presently, we are following the State Council, (bank) regulator and the finance ministry's instructions to quicken the introduction of strategic investors," Xu said. He did not specify the size, time or location of the bank's IPO.
UBS, Singapore's Temasek Holdings and French bank BNP Paribas are among half a dozen preliminary bidders looking to buy up to a 10 percent stake in PSBC for at least $3 billion, people familiar with the matter told Reuters in April.
PSBC, wholly owned by China Post Group Corp, the state-owned postal service, has 488 million individual clients at the end of June, Xu said, bigger than the combined populations of the United States and Russia.
The bank currently holds 6.5 trillion yuan ($1.05 trillion) worth of assets, he added.
As the China authorities keep urging commercial banks to increase lending to the credit-hungry rural sector and small businesses at lower interest rates, PSBC had 695.8 billion yuan lending to agricultural business as of the end of June, up 41 percent from a year prior.