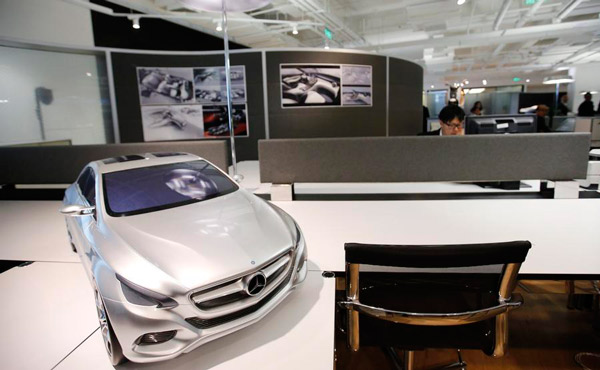 China's antitrust authority fined Daimler AG, a German multinational automotive corporation headquartered in Stuttgart, 350 million yuan ($58.34 million) and some of its dealers nearly 8 million yuan for price fixing.[Photo/Agencies]
The nation filed 169 anti-trust cases to tackle unfair competition at home and in overseas markets during the first six months of the year, up 46 percent on a year-on-year basis, the Ministry of Commerce said on Tuesday.
About 153 cases have been approved by the ministry after the review. Manufacturing industries, including shipbuilding, auto parts, mechanical and electric equipment businesses, accounted for 53 percent of the cases.
Shen Danyang, spokesman for the ministry, said there has also been a growth in other sectors like finance, telecommunications, agriculture and transportation.
Equity purchasing and forming joint ventures accounted for 87 percent of the total cases during this period. Domestic companies launched more merger and acquisition activities in their home market than previous years, said Shen.
Transaction value under 10 billion yuan ($1.61 billion) accounted for 84 percent in the first half.
China introduced an anti-monopoly law in 2008 that requires foreign firms to pass a review meant to prove that they pose no threat to the nation's national security.
The ministry said China will further improve the transparency and efficiency of handling and reviewing merger and acquisition cases.
Wang Zhile, a senior researcher at the Chinese Academy of International Trade and Economic Cooperation, said China's anti-trust review procedures and practices are "transparent and in line with international practice".