Businesses which involve "ordering online and receiving services offline", or O2O, are booming in China. Websites and Apps that connect technology and daily services, have brought offline services to customers in the comfort of their homes.
O2O is gradually changing the operation of service industries, and with a click on the computer or a tap on smartphones, services will delivered to your doorstep, from cooking to housekeeping, from taxi hailing to car washing.
The O2O market was worth 235.08 billion yuan ($37.87 billion) in 2014, compared with 44.7 billion yuan in 2010. Fueled by growing demand and the huge amount of capital being bet on the rosy future of this industry, the market is expected to reach 309.18 billion yuan this year.
In the first four months of this year, more than 10,000 O2O apps and products were created, covering many services.
Here are top 10 services sectors that change by O2O.
No 10 Real estate services
Real estate agents are paying more attention to online presence than ever, since many prospective buyers or tenants tend to check the online listing before talking to an agency. Furthermore, with increasing appetite for overseas property, some Chinese property investors are buying houses site-unseen, only through photos and the description on the website.
Major players: soufun.com, juwai.com
Apps: Ai Wu Ji Wu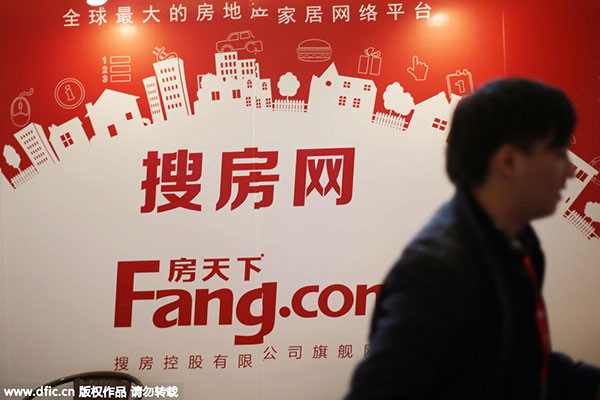 A pedestrian walks past an advertisement of Chinese online real estate website Fang.com, also known as SouFun or SouFun.com, in Shanghai, China, 20 March 2015. [Photo/IC]