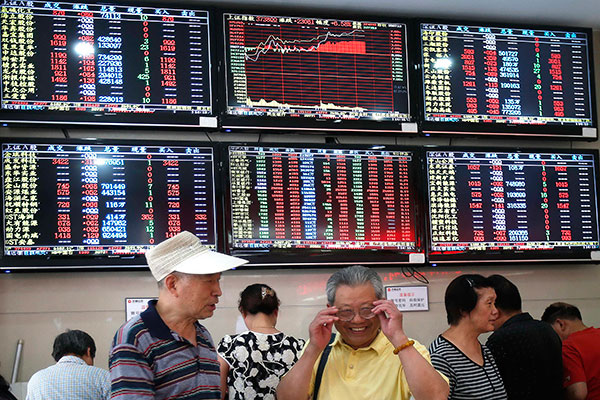 Investors discuss market trends at a brokerage office in Wuhan, Hubei province. The benchmark Shanghai Composite Index rose 5.67 percent on Thursday after days of woes. Banks will be allowed to roll over loans backed by shares and adjust their collateral requirements as the government tries to limit pressure for investors to sell stocks and contain market risks. [Photo/China Daily]
Regulator allows lenders to roll over company loans backed by shares
China will let banks roll over loans backed by shares and adjust their collateral requirements as the government tries to limit pressure for investors to sell stock and contain risks to the financial system from a market rout.
The China Banking Regulatory Commission also wants lenders to support firms' share buybacks by offering collateralized loans, the agency said in a statement on Thursday.
One of the side-effects of the share market's woes from a June 12 peak was to diminish the value of shares pledged as collateral for loans from banks and brokerages.
As of Wednesday, that pool of stock was valued at 1.9 trillion yuan ($306 billion) and comprised shares in 1,170 companies, according to Wind Information data.
"The bottom line for the government is to prevent a contagion to the banking system, which can lead to systemic risks," said Zheng Chunming, a Shanghai-based banking and brokerage analyst at Capital Securities Corp.
"Some stocks have tumbled more than 60 percent, any further drop will start to hurt banks' financial health."
The CBRC also loosened requirements for banks to sell stocks that have fallen in value, under agreements with clients of wealth-management and trust products. It encouraged banks to offer loans to China Securities Finance Corp, an agency that helps to supply credit for stock purchases.
Suspensions of more than 1,400 of China's listed companies have fueled speculation that some firms prefer not to be traded because of concern that sales of pledged shares could further drive down their stock prices.
Stock-pledge financing is partly why CPT Technology Group Co, a Fujian-based maker of flat-panel displays, has been suspended since Tuesday, Board Secretary Chen Wei said in an interview on Wednesday, although he added that work on a stock-incentive plan for employees was the biggest reason.
CPT's largest shareholder has pledged 62 percent of the firm's stock, according to a Jan 26 statement by the company. China Minsheng Banking Corp and China Fortune Securities Co were among lenders to accept CPT stock as collateral, according to CPT statements in December and January.
While the company's shares have tumbled 55 percent from a June 11 peak, Chen said that the pledged collateral is far from falling below the loans' value.
In China, a borrower pledging blue-chip shares can usually get a loan of as much as 50 percent of their value, while using other shares may mean a limit of 20 percent to 40 percent, according to Central China Securities Co.
Already grappling with rising bad loans, Chinese lenders may have had 2 trillion yuan of exposure to financing of stock purchases as of May, including via so-called umbrella trusts, asset management plans and lending to brokers via repurchase transactions, Judy Zhang, a Hong Kong-based analyst for BNP Paribas SA, estimated on Monday.
Still, Zhang saw only a limited risk, with that amount equal to 1 percent of assets in the banking system.