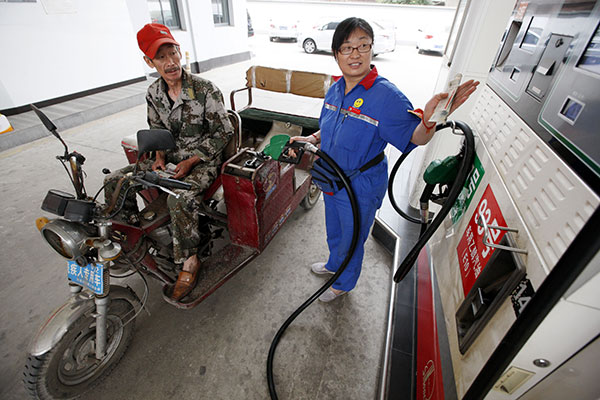 A gas station in Huaibei, Anhui province. Retail fuel prices in China will be lowered slightly from Wednesday. [Photo/China Daily]
Global woes drag crude prices, as demand continues to decline in China
Retail fuel prices will be lowered slightly from Wednesday to better reflect the global fall in crude prices and the glut in the market, the nation's top economic planner said on Tuesday.
The National Development and Reform Commission said that retail prices of gasoline would be cut by 95 yuan ($15.35) a metric ton, or 0.07 yuan a liter, while diesel prices will go down by 90 yuan a ton, or 0.08 yuan a liter. After the price reduction, the benchmark price of 90-octane grade gasoline will be 6.09 yuan a liter.
Till date, domestic retail fuel prices have seen five hikes and five cuts this year. Gasoline prices have gone up by 365 yuan a ton in total, while diesel prices have risen by 295 yuan a ton.
Influenced by Greece's rejection of the debt bailout terms, the US crude price benchmark West Texas Intermediate fell 7.73 percent, or $4.40, on Monday to settle at $52.53 a barrel, which was the biggest drop since Feb 4 and the lowest level since April 13.
Li Yan, a crude oil analyst at consultancy Shandong Longzhong Information Technology Co, said that apart from the Greece issue, there are several other factors that could pull down crude prices.
"Crude output from the United States and the Organization of Petroleum Exporting Countries are likely to increase further, which may lead to more supplies in an already oversupplied global market," he said. "China imported less crude in May, reflecting weak demand. Due to these factors, crude prices are likely to stay depressed for some more time," Li said.
He expects retail prices to be cut again during the next round of pricing adjustments, which is scheduled for July 21.
According to the consultancy, the average running capacity rate of China's refineries was 81.72 percent during the first half, a 1.39 percentage points decline compared with the same period last year, reflecting weak downstream demand.
"The number of automobiles has been increasing in China, indicating stable demand for gasoline. But diesel demand, especially in the logistics sector, has been falling due to the weak economy," Li said.
With local governments paying more attention to environmental protection, diesel demand from steel mills and coal mines has also fallen sharply.
"Retail prices of diesel fell by around 20 percent to 50 percent in different parts of China," Li said. "The number of trucks and other vehicles used by the logistics industry has fallen sharply while several mines and steel companies suspended production or closed operations."
Xue Qun, an oil product analyst with the consultancy, said fuel costs for individual drivers will fall by 5 yuan per 1,000 kilometers for vehicles with engines of 1. 6 liters, while logistics firms will pay 150 yuan less per 5,000 km.
"As the temperature rises in summer, the fuel costs will increase by about 10 percent for air conditioning. However, the retail fuel price cuts will help drivers and logistics companies save costs", she said.