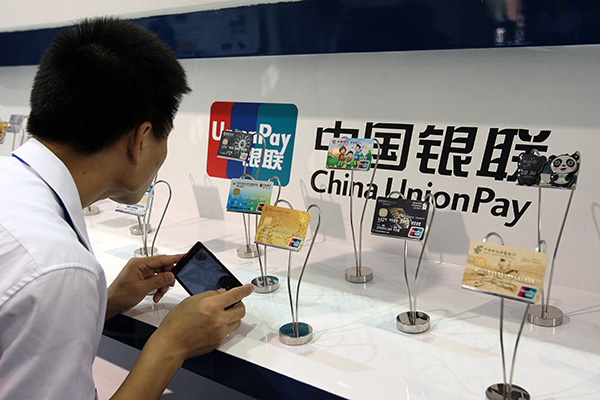 China UnionPay is aiming to build a global bank card, issued and used in countries throughout the world. [Photo/China Daily]
China UnionPay is aiming to build a global bank card, issued and used in countries throughout the world.
"Our ambition is for UnionPay to serve customers worldwide," said Ge Huayong, chairman of China UnionPay and UnionPay International.
"As a young company, we're still in the process of realizing this ambition, but we are growing fast."
He was talking to the media after a speech to about 200 industry experts at the Shanghai City Campaign Forum at the Milan Expo on June 10.
During the event, he signed an agreement with Cartasi SpA, an Italian credit card issuer, a deal he said is an example of China UnionPay's international development strategy to expand its customer base through partnerships with local companies in Europe, and in the process recruit European customers.
China UnionPay was founded in 2002 to enable cross-city, inter-bank transactions on cards issued by China's commercial banks. The proportion of all card-based spending to total retail sales rose from 2.7 percent before UnionPay's inception to 47.7 percent in 2014.
The company began to expand internationally in 2004 and founded UnionPay International, which has built partnerships with more than 300 institutions worldwide. Today, the company's cards are accepted in more than 150 countries and regions, and roughly 5 billion UnionPay cards have been issued globally.
According to the company, one key market has been South Korea, where one in five people have a UnionPay card. In Pakistan and Laos, its cards have been issued to customers for many years and have become the most recognized payment card. And in the United States, more than 90 percent of ATMs and more than 80 percent of retailers accept UnionPay.
These achievements have not come easily, considering the company is up against fierce competition from Visa Inc and MasterCard Inc, Ge said.
"UnionPay International is not a truly international payment card company because overseas transactions still only account for 2 to 3 percent of our overall transactions, but we have an advantage to expand fast because the Chinese economy is growing rapidly, so we are growing fast," he said.
UnionPay International's overseas expansion strategy has two models: One focused on developing economies, the other on mature economies.
In developing economies, UnionPay International can use its expertise in the payment field to help its partners develop infrastructure, he explained. When the infrastructure is built, the company's cards can easily be used by those systems.