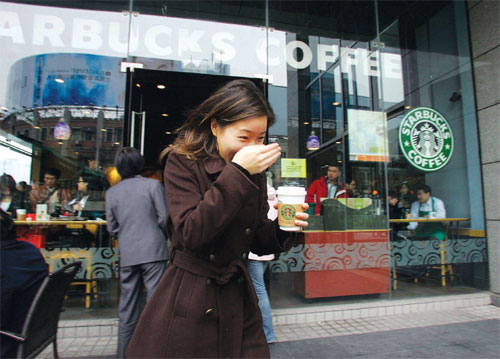 A woman holds a cup of coffee while passes by a Starbuck's Coffee shop in Shanghai. [File photo/China Daily]
On May 12, American ice cream brand Haagen Dazs refurbished one of its key outlets in Shanghai's Nanjing Road and began switching up its products.
It added ice cream to glasses of coffee and marketed the new store as its first global coffee shop. In April, English fashion designer Vivienne Westwood set a small corner of the brand's global flagship store in Shanghai as, again, its first coffee shop worldwide.
Earlier this year, KFC initiated an ad campaign on the city's mobile screens in metro trains, taxis and buses about "a serious cup of fresh grind" offered by the fast food chain, almost five years after McDonald's began selling coffee at its restaurants.
These are just a fraction of the more than 4,000 coffee shops in Shanghai, whose population of 25 million consume 20 cups of coffee per capita each year on average.
Statistics from the China office of Euromonitor, a London-based market research firm, show that total coffee sales at stores in Shanghai hit 20 billion yuan ($3.2 billion) in 2013, double the rate of 2008. It is expected to double again by 2017.
Coffee sales at Korean cafes on the outskirts of Shanghai and in nearby second-and third-tier cities have also rapidly been gaining traction.
Commercial property agent RET Property estimates there have been 600 new openings of Korean cafes in China in the last two years. This seems like a conservative guess, as Caffe Bene alone has contributed nearly 600 new openings since entering the Chinese market in late 2012.
One of the advantages Korean cafes boast is the variety of products on their menus, adding items like waffles, pancakes and milk shakes.
Most coffee shops offer fewer than 40 items. Korean stores ramp this up to around 70. Most of Caffe Bene's outlets are franchised to local partners, raising concerns among industry experts of how to maintain standards.
But Korean cafes are expanding rapidly, due in part to their endorsement by popular K-pop stars, a trend that is likely to reshape the industry in China and weaken the stronghold of Western coffee chains.
But no company has yet to rival Starbucks, the first foreign coffee chain to open an outlet in China back in 1999. It now has more than 1,600 stores in more than 80 Chinese cities, a number unmatched by any of its rivals.
Its takeaway cups have even become a stylish accessory among the upwardly mobile in China's big cities.
On Taobao.com, China's largest online shopping market, copycat cups sell for 10 times the price of regular white Styrofoam cups. Top stores on the site claim they can shift 30,000 units a month.
Shoppers can also buy its green straws, brown paper bags and cardboard sleeves.
According to Starbucks Chief Executive Officer Howard Schultz, the company will continue to increase its presence in China, its second-largest market after North America.
At least another 200 new stores are planned for the second half of this year, or more than one a day, Schultz said last month.