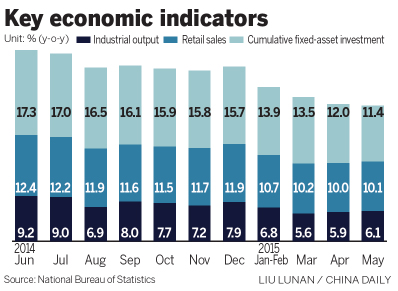 May Analysts hopeful of better performance in second quarter
Stabilizing levels of industrial production in May could help drive China's economic growth toward a more solid second quarter, according to leading economists.
They were reacting to economic data released by the National Bureau of Statistics on Thursday which reversed some previously pessimistic views that had forecast GDP growth to drop below the full-year's target of 7 percent from April to June.
The NBS figures showed industrial output, the main monthly measure of growth, rose 6.1 percent from a year earlier, up from 5.9 percent in April and 5.6 percent in March.
Overall fixed-asset investment, although down over the first five months compared with the same period last year, strengthened in May to 9.9 percent growth from 9.6 percent in April.
Real estate investment accelerated to 2.4 percent from April's 0.5 percent, while retail sales also improved slightly, to 10.1 percent from April's 10 percent.
Louis Kuijs, chief China economist at Royal Bank of Scotland Group Plc, said the latest economic snapshot suggests growth may have turned a corner, but still cautioned the recovery was likely to be shallow.
"This overall growth should start to benefit the economy in coming months, along with the recent shift to a more growth-supportive fiscal and monetary policy stance, and from some modest improvements in global demand," he said.
The People's Bank of China, the central bank, also reported on Thursday that broad money supply, or M2, expanded 10.8 percent in May from 10.1 percent in April.
New loans increased by 900 billion yuan ($144.95 billion) compared with 707.9 billion yuan in April.
Total social financing, the broadest measure of credit, came in at 1.22 trillion yuan, up from 1.05 trillion yuan in April, according to the NBS.
Economists said the stronger-than-expected monetary figures illustrated that the 100 basis points reserve requirement ratio cut in late April had encouraged banks to lend more, accelerate project approvals and ease the constraints on local government financing.
To ensure sufficient financing is available for infrastructure projects, the PBOC has continued to inject more capital into policy banks, which means a targeted easing of liquidity to support growth.