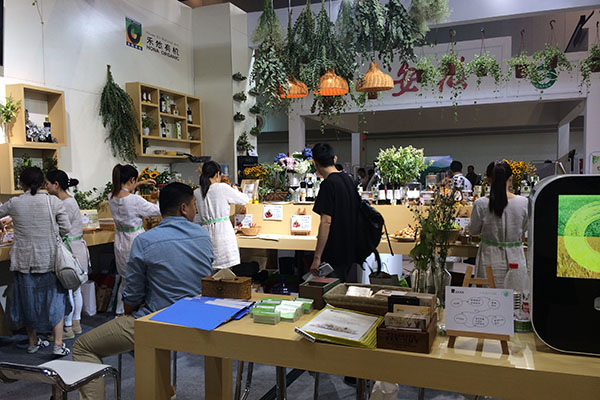 Visitors look at products at Hona Organic's booth at China International Organic Food Fair on May 28, 2014.[Cai Muyuan/chinadaily.com.cn]
A craze for organic food is taking China by storm as the country's middle-class gains stronger purchasing power and awareness of healthy living and dietary concerns increase.
Urbanites, including white-collar workers and young moms, are seeking alternative ways to buy safe and healthy products, partly spurred by waves of food safety scandals.
Liu Rui, a frequent of Beijing's Ole supermarket, said even though the imported organic food can be expensive, it's an investment she's willing to make for her family's health.
Consumers like Liu have made China the fourth-biggest consumer of organic products in the world. "China is a market that attracts great attention from the world's organic traders," Wang Yunhao, director of China Green Food Development Center (CGFDC), said at an organic food fair on May 28.
The sales volume of organic products in China is around 20 to 30 billion yuan every year, according to Wang.
The three-day China International Organic Food Fair (Biofach China) attracted 329 exhibitors from all over the world in its ninth consecutive year in Shanghai.
Big players in organic food market like Denmark, Germany and Australia have eyed the potential market and put on a show of their dairy, meat and wine products on the second-biggest organic food fair in the world trying to win the opportunities to shine in the market.
"We export nearly 80 million yuan worth of organic products to China every year since we got our certificate in 2013," Ejvind Pedersen, chief adviser of Danish Agriculture & Food Council, said, adding that organic milk and baby formula are the most popular products in China.
All imported organic products have to be certificated in China after audit and onsite inspection by certification committee before they can get on the shelves in China.
According to Ejvind, the import volume of organic food from China is around the same while soybeans and oil are on top of the hot demands.
Henk E Bijl, Managing director of Vechtenaer B.V., expressed that it's a pity that it's impossible to bring fresh milk to China due to the products' short shelf life. "After we put the fresh milk in UST cartons, it will be in the warehouse of our Chinese distributor in two months and has another 10 months of shelf life."
Henk believes that the company's product has a strong edge in competing with other brands because he believes that the business he's in is all about trust. "We are in the pyramid of trust in Europe. When customers trust your products, they stick to it."
Like many who are impressed with how fast China's organic food market is growing, Henk is confident to see this market booming in no time. "What we have achieved in dairy industry in 30 years, China would probably do in five years."