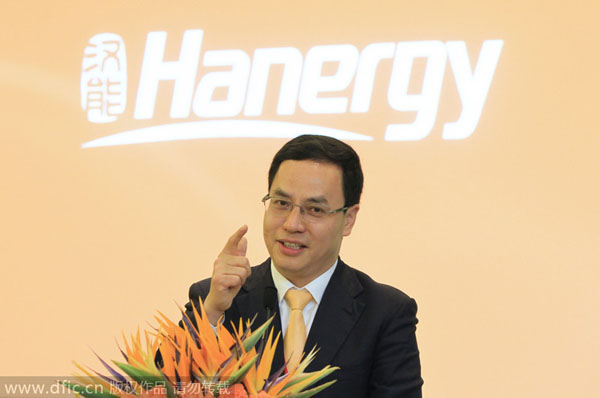 Li Hejun, Chairman and CEO of Hanergy Holding Group Limited, speaks at a press conference during the Boao Forum for Asia Annual Conference 2013 in Qionghai city, South China's Hainan province, April 7, 2013. [Photo/IC]
The securities regulator in Hong Kong said on Thursday that it is conducting an investigation into Hanergy Thin Film Power Group, a day after the company's chairman dismissed reports of such a probe as "purely rumors".
"This statement is issued in accordance with the SFC's Disclosure Policy, given the public interest following reports denying such measures have been taken," the Securities and Futures Commission said on its website.
The SFC usually does not comment on individual stocks or ongoing cases, but the response from Hanergy's Chairman Li Hejun prompted the regulator to speak out.
During a television interview with the Xinhua News Agency that aired on Wednesday, Hanergy's Chairman Li denied any regulatory probe by the SFC and said that the company is having its best times ever.
"It is impossible, otherwise I should have known," he said, adding that all of the company's production lines are heavily utilized round the clock and the company has entered a phase of sustainable development.
Hanergy came under the spotlight last week after a stock plunge wiped nearly 50 percent off its market value before it was suspended from trading. The company saw $18.6 billion erased from its market capitalization during the rout on May 20.
Before the sell-off, Hanergy's shares had surged 625 percent over the past year. At the shares' peak in April, Li was ranked as China's richest person with a personal worth of more than $45 billion.
The huge climb spurred speculation of market manipulation as the company had been reporting soaring revenues based on sales between its listed subsidiary and its parent company Hanergy Holding Group Ltd, earlier reports said.
But the prime reason behind the plunge was investors' loss of trust in Hanergy, as media reports said that it was unable to pay the principal and interest on bank debt, analysts said.
"Since the transaction volume ... was not high on the day when Hanergy's share price halved, it is more likely that the fall reflected short-selling by some institutional investors," said a private equity analyst based in Shanghai, who declined to be named.
Hanergy uses a specialized technology to create thinner, more flexible solar panels. Industry insiders said the thin film solar panels account for only 10 percent of the global market share, and this technology will not have a major role in China.