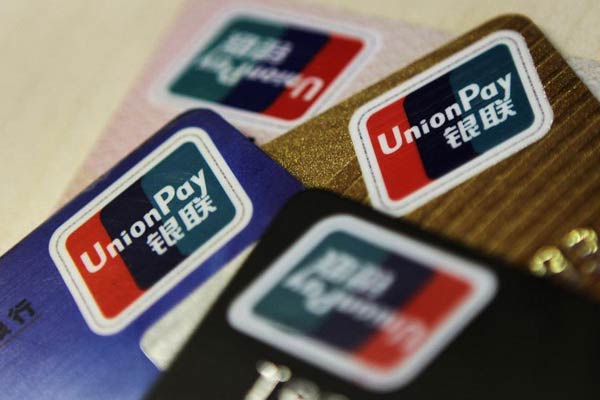 Logos of China UnionPay are seen on bank cards in this file photo illustration taken in Beijing Dec 5, 2013. [Photo/Agencies]
China UnionPay is promoting economic and personnel exchanges along the "Belt and Road Initiative" by enhancing cooperation with major banks in the countries on the trade routes.
The Chinese bank card company has already expanded the UnionPay card acceptance network to more than 50 of the 64 countries along the Silk Road Economic Belt and the 21st Century Maritime Silk Road.
Following the announcement of the trade initiatives, there have been frequent economic and personnel exchanges between China and Kazakhstan, said David Lee, chief cooperation officer of UnionPay International, a subsidiary of China UnionPay that focuses on global business.
UnionPay International said it is committed to providing diversified support and services for the trade initiatives and said it has already signed an agreement with Halyk Bank, the second-largest commercial bank in Kazakhstan by assets, for further cooperation.
The two sides agreed to deepen cooperation in several areas, including local card issuance, online payment, express money and financial support for Kazakh students who travel to China for studies.
At present, nearly 70 percent of the automated teller machines and over 50 percent of the merchants in Kazakhstan accept Union-Pay cards.
Umut Shayakhmetova, president of Halyk Bank, said the bank has issued around 200,000 co-branded cards with UnionPay. Before the end of 2016, it will issue more than 1 million such cards.
"For the Kazakh market, it is a big number," Shayakhmetova said, adding that although 16.5 million bankcards were issued in Kazakhstan, only around 6 million are active.
More than 90 percent of the co-branded cards were issued to local residents, including employees of Chinese companies, students, entrepreneurs and tourists from Kazakhstan to China. All the cards issued are chip-based, which brings more security for the payment system, she said.
"Being the closest neighbor of China on the new Silk Road, we are developing more and more banking and financial initiatives. We are talking about opening the Khorgas land port on the China-Kazakhstan border, for Halyk Bank to enter Chinese territory and Chinese banks to go to Kazakh territory. It will strengthen and promote more economic activities between the two countries," she said.
Last year, total payments using the co-branded cards exceeded 150 million yuan ($24 million) when they were used in China, giving the country much help to expand foreign trade, said Cai Jianbo, chief executive officer of UnionPay International.
"We are supporting the 'Belt and Road Initiative' by providing quality payment services for economic and personnel exchanges between China and Kazakhstan. And we support two-way communications rather than single-way," Cai said.
UnionPay International is designing products in the yuan and the Kazakh tenge, which will allow the Chinese and Kazakh people to use their own currencies as much as possible to avoid currency exchange losses, he said.