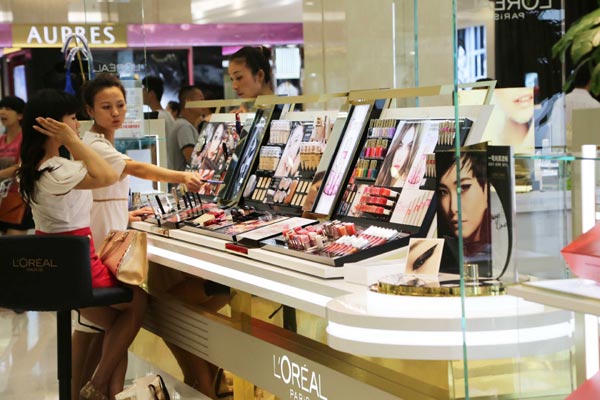 L'Oreal products in department store.[Photo/China Daily]
SHANGHAI - French cosmetics giant L'Oreal has promised to cut the prices of most of its imported products after the Ministry of Finance announced it would slash import tariffs.
Despite increasing operational costs and the limited impact customs duties have on retail prices, L'Oreal said in a statement on Wednesday that it would lower the prices of imported products.
The ministry announced Monday that as of June 1, import duties on consumer goods would be reduced by an average of 50 percent. The duty on cosmetics will be reduced to 2 percent from 5 percent.
Economic growth slid to 7 percent in the first quarter this year, down from 7.3 percent the previous quarter, and retail sales in April grew 10 percent from a year ago, slightly lower than the 10.2 percent posted in March, indicating more easing measures may be needed to prop up growth.
L'Oreal China CEO Alexis Perakis-Valat said the company welcomed the tax reduction.
Last year, L'Oreal earned 14.3 billion yuan ($2.3 billion) in China, registering growth of 7.7 percent.
Yu Jian, general manager of consumer knowledge firm Kantar Worldpanel China, said the fast-moving consumer goods (FMCG) market had encountered challenges and looking forward it would probably settle into a period of moderate growth.
Spending at home
Chinese consumers last year spent about $165 billion overseas. A surge in the number of outbound tourists and the yuan's appreciation against the euro and Japanese yen also helped drive overseas consumption up 28 percent from 2013.
The shopping mania has been mainly attributed to the substantial difference between domestic and overseas prices. Premium goods can be up to 50 percent more expensive in China than abroad.
Prices in China are inflated because of high import and consumption taxes on luxury goods and a tendency by foreign firms to set much higher prices in China. As economic growth continues to dip, policy makers have identified boosting domestic consumption as the most viable way to spur an economy beset by industrial overcapacity and corporate debt.
The cabinet justifies this shake up of consumer goods taxes by saying that increased imports of popular goods would help boost domestic consumption and benefit the job market.
Zhao Ping, a leading researcher at the Ministry of Commerce, said that if shoppers spent one third of the money they splurged overseas in China, domestic consumption would grow by 1 to 2 percent.
Other luxury brands are also poised to slash prices to revive their China sales, especially as they have suffered from the ongoing corruption crackdown.
China's luxury market shrunk for the first time in 2014, down 1 percent from a year earlier, according to a report by Bain & Co.
Chanel last year lowered the price of its handbags in China by over 20 percent.
"In the past, the Chinese bought luxury goods as gifts. Now they buy them for themselves. Only by lowering prices can we help luxury brands retain their market share," said a China market agent for foreign brands who requested anonymity.
"The tariff reduction will be the catalyst for a trend of price cuts," she said.