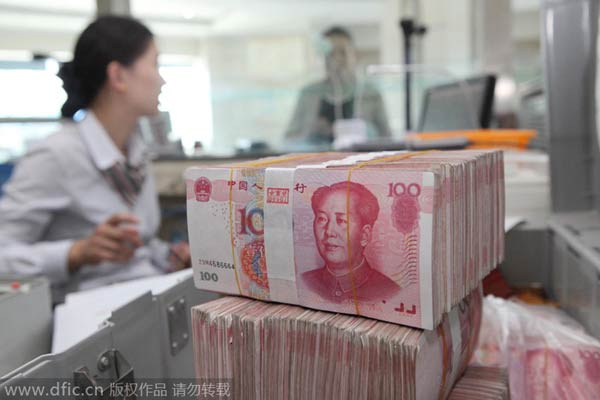 An employee counts renminbi (yuan) banknotes at a bank in Lianyungang city, East China's Jiangsu province, June 4, 2014.[Photo/IC]
The state of China's government finances do not normally grab the headlines amid the economic data emanating from the world's second-largest economy.
Far more attention is paid to GDP growth with small variations having a significant impact on global financial markets.
Yet at the recent annual sessions of the National People's Congress and the Chinese People's Political Consultative Conference, the country's fiscal position was a major talking point.
All eyes were therefore on Premier Li Keqiang after he set a 2.3 percent fiscal deficit target for this year and unveiled the Government Work Report on March 5.
This was an increase on the 2.1 percent in 2014 and substantially above the 0.6 percent in 2008 before China's 4 trillion yuan ($639 billion) stimulus to give the economy a lifeline in the wake of the financial crisis.
It is the local government that is feeling the crunch. A report by Deutsche Bank forecast that municipal revenues would actually fall by 2 percent this year.
Local authorities are unlikely to get much of a boost from external finance. The pace of increase in foreign direct investment appeared to be slowing in the first two months of this year with a 17 percent rise year-on-year, compared to the January increase of 29.4 percent in figures released on March 16.
Zhiwei Zhang, chief China economist of Deutsche Bank, says China's fiscal position is now the economy's single biggest problem.
"We believe this is the most important risk to the economy and one that is not well recognized in the market," he told Economic Times recently
China's fiscal issue has been brewing since a National Audit Office report published in 2011 revealed local government debt of 10.7 trillion yuan. By the end of June 2013 this had risen to 17.9 trillion yuan.
This led some to conclude the Chinese economy was heading toward its own Lehman moment.
Unusual, however, for a developing country, China does retain the capacity to absorb high levels of debt.
It has easily the world's largest foreign exchange reserves of some $4 trillion, four times more than Japan, which has the next biggest. Its State-owned enterprises also had assets of 104.1 trillion yuan in 2013, considerably more than the 53.3 trillion they held in 2009, according to the Ministry of Finance.
Unlike in many Western countries, China's local government spending is not financed in large part by local taxation.