Analysts warn that government spending may fall short amid growth concerns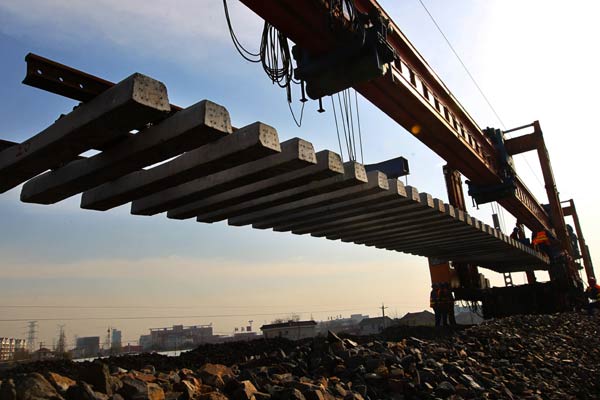 Rail tracks are laid on a route in Nantong, Jiangsu province. Premier Li Keqiang said that China will invest 800 billion yuan in railway construction in 2015. XU CONGJUN/FOR CHINA DAILY
The nation aims to run a larger budget deficit this year to counteract the economic slowdown, but some analysts question whether the increase in spending is adequate.
In his annual work report to the National People's Congress on Thursday, Premier Li Keqiang targeted a 1.62 trillion yuan ($258 billion) budget deficit, 270 billion yuan wider than last year's. This year's figure represents 2.3 percent of the nation's GDP, up from 2.1 percent last year.
The higher deficit-to-GDP ratio signals a more proactive fiscal policy, but it is less than most institutions' forecasts.
"It's not clear the government is putting enough on the table to guarantee achievement of even its more modest 7 percent growth target," Bloomberg economists Tom Orlik and Fielding Chen wrote in a report following the announcement. "We had expected a budget deficit target of 2.5 percent of GDP, including more substantial moves to allow borrowing by local governments. Even that would have raised questions about the adequacy of policy support for demand."
Zhu Haibin, chief China economist with JPMorgan Chase & Co, said the deficit-to-GDP ratio is lower than the bank's 2.9 percent estimate, raising concern that it may be a drag on growth.
"This year's fiscal policy at best is 'neutral' ... as local governments' financing ability was curbed, it could lead to insufficient investment in public spending, especially on infrastructure," he said.
Nomura Securities Co said in a research note that the deficit is smaller than it had expected, which it described as a "mildly proactive" fiscal policy.