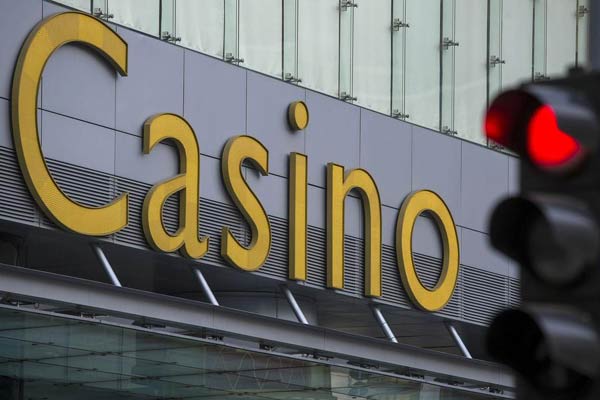 A traffic light is pictured in front of the Starworld Macao Casino in Macao, February 17, 2015.[Photo/Agencies]
The Macao Special Administrative Region slashed its monthly gambling revenue forecast 27 percent, as the city's chief executive pledged a five-year plan to make the world's largest gaming hub less dependent on casinos.
The city expects average gross monthly gaming revenue of 20 billion patacas ($2.5 billion) this year, down from an earlier estimate of 27.5 billion patacas, Chief Executive Fernando Chui said on Monday. Macao has entered an "adjustment" period of slower growth and needed to develop a broader range of attractions to draw tourists from around the world, he said.
Tim Craighead, head of Asian research at Bloomberg Intelligence, said: "We think this is pretty pessimistic, though it may be better for an official to slash things so much that they can then eventually get into positive revision mode from a low base. If they use this as a base assumption, it emphasizes the need to diversify the economy, which is already in the plans."
Gaming revenue is expected to fall for a second year, battering the local economy and the share prices of casino operators such as Sands China Ltd and Galaxy Entertainment Group Ltd.
Chui's tourism panel would draft a five-year plan for stable casino growth while expanding the city's tourist offerings, the chief executive said. The government will evaluate the development of the gaming industry since ending local casino mogul Stanley Ho's monopoly in 2002 and opening casinos to foreign operators, with the goal of strengthening oversight.
"Even though the economy has faced major difficulties and challenges, the overall fundamentals of the economy are good," Chui told legislators on Monday, his first policy address since starting a second term in December. "The pace of economic growth has slowed, prompting us to accelerate economic diversification."
The government also plans to improve airport facilities and expand airline services, Chui said.
Macao's economy shrank 17 percent in the final quarter of last year as casino revenues slipped 2.6 percent, the first such annual decline.
According to the median estimate of nine analysts surveyed by Bloomberg News in January, gaming revenues would probably drop another 8 percent this year. The most pessimistic expected a 21 percent decline.
The new projection provided by Chui in a post-speech briefing would represent a 32 percent decline from last year's average of 29.3 billion patacas, according to data from Bloomberg Intelligence.
The government's projection has not historically been a good indicator, D. S. Kim, an analyst at JPMorgan Chase & Co, wrote in a note on Tuesday, saying he would leave unchanged his estimate of an 18 percent drop.
Kim joined Barclays Plc in predicting a March casino revenue casino decline of 36 percent to 39 percent.
Diversifying Macao's economy would take 20 to 30 years and the city should accelerate efforts, Li Gang, director of the central government's local liaison office, said this month.
The government has been requiring casino operators to add non-gaming elements to their projects to draw vacationing visitors and Chui said on Monday the government would continue to push for better balance between high rollers and mass-market gamblers at resorts.