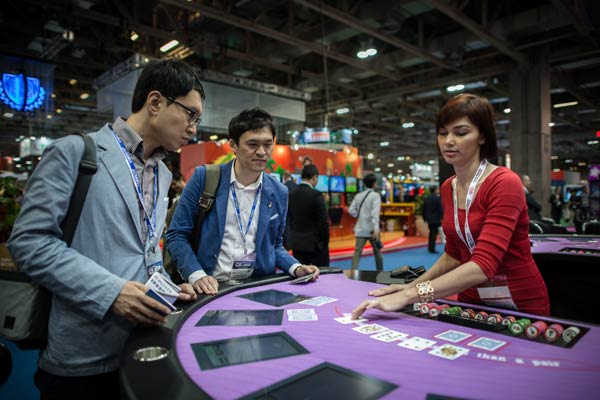 Visitors are given a demonstration at a booth of the Global Gaming Expo Asia in the world's biggest gambling hub of Macao, May 20, 2014. [Photo/Agencies]
At the oceanfront Ramada Plaza hotel on South Korea's Jeju island, about a hundred Chinese gamblers huddle around felt-topped tables, wagering as much as 5 million won ($4,500) at baccarat. Shouts in Mandarin - "Beautiful!", "Good!" - ring out as gamblers with winning hands slam their cards on the green table-tops.
Asian casino operators from South Korea to Australia are pulling in the Chinese mainland's gamblers as Beijing's corruption crackdown scares many away from Macao, the world's biggest gambling hub. They are capitalizing on a downturn in the city's gaming industry, which last month suffered its worst drop ever.
Operators such as Paradise Co in South Korea are hiring Mandarin-speaking staff and offering VIP treatment including free flights, limousines and hotel stays to big spenders. Echo Entertainment Group Ltd of Sydney and NagaCorp Ltd in Cambodia cater to the junket operators who organize trips for Chinese gamblers with perks such as higher commissions, lower taxes and private jets.
"Premium mass players can be recognized as VIP players and treated better than in Macao," said Lee Hyuk-byung, vice-chairman of Paradise, in an interview in Seoul. "And we have other attractions in Korea such as culture, fashion, food."
Macao's casino revenue fell last year for the first time and may decline another 8 percent this year, according to analysts surveyed by Bloomberg. By contrast, South Korea and the Philippines will grow 16 percent and 33 percent respectively this year, gaining from the spillover of Chinese gamblers, Deutsche Bank analyst Karen Tang wrote in a note.
The Chinese government has urged Macao, the only place in China where casinos are legal, to diversify from gambling. Macao's government imposed more scrutiny over junket operators, as mass market gambling also weakened amid China's economic slowdown, and new restrictions on visas and cigarette smoking.
"The anti-corruption measures are discouraging some people from travelling to Macao, and as a result we are seeing a slight shift in travel from Macao to other destinations," said Aaron Fischer, a Hong Kong-based analyst at CLSA Ltd.
"Vietnam and the Philippines will likely benefit as they are the closest. South Korea will pick up people in the northern parts of China."