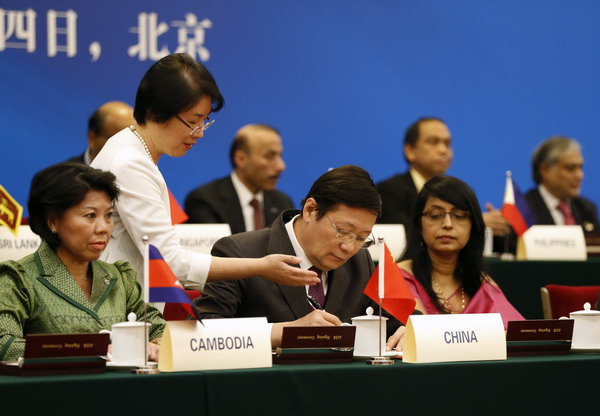 China's Finance Minister Lou Jiwei (C) signs a document, with the guests of the signing ceremony of the Asian Infrastructure Investment Bank at the Great Hall of the People in Beijing October 24, 2014. [Photo / Agencies]
SEOUL -- South Korea is about to make sharp turns in its decision on whether to enter China-proposed Asian Infrastructure Investment Bank (AIIB) after major European countries announced intentions to join the international body to fund infrastructure development in Asia.
In the past two days through Thursday, multiple South Korean media depicted the country's entry into the AIIB as a foregone conclusion. Donga Ilbo newspaper reported Thursday that the government already decided to join the 50-billion-US dollar bank as one of founding members. Munhwa Ilbo newspaper became the first local media on Wednesday by reporting that the AIIB entry is a foregone conclusion.
The Finance Ministry in charge of the country's AIIB entry is now working on conditions to join the AIIB, including how many shares it may get, a source with knowledge of the matter told Xinhua Thursday. The source declined to be identified because nothing has been fixed yet.
The presidential office denied media reports Wednesday, saying nothing has been decided yet "at the current stage," but lots of local media reported that the government would officially announce its decision to join the AIIB as late as next weekend before the deadline ends on March 31.
"Possibility for (South Korea's) entry into the AIIB is seen very high," Jee Mansoo, research fellow at Korea Institute of Finance (KIF), told Xinhua Thursday. "It is a matter of time. There is no reason not to enter the bank."
South Korea had initially declined to support the bank last year due to concerns over governance and operation, but those concerns were eliminated after Germany, France and Italy confirmed intentions to join the program in the wake of Britain's application.