Retailers urged to check whether packets are undamaged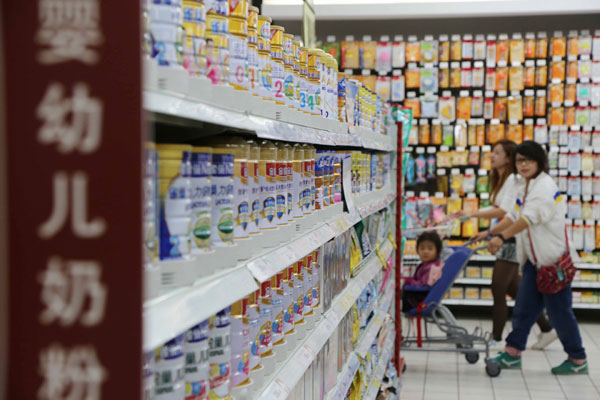 Dairy products at a supermarket in Xuchang, Henan province. [Geng Guoqing / For China Daily]
China is toughening its examination of milk powder imported from New Zealand, according to the quality control watchdog, after revelations emerged on Tuesday of a criminal threat to contaminate some products with an agricultural poison.
The government has already taken steps and will demand each batch of milk powder imported from New Zealand have an official certificate telling that it does not contain the substance, sodium monofluoroacetate, or 1080, the General Administration of Quality Supervision, Inspection and Quarantine said in a statement.
The administration also urged retailers to examine each packet of milk powder sold to make sure it has not been tampered with.
There have been no reports so far of any poisoned milk powder, said the administration, but it advised consumers to report to local public security or the quality control administration if they found any damages to packets of milk powder.
The scare is the latest threat to New Zealand's dairy sector, which exported nearly $11 billion in milk products in 2014, and follows a contamination scare in 2013, when a botulism-causing bacteria was believed to be found in one of Fonterra's products. The discovery was found to be false.
The New Zealand government said that there was no health risk to consumers and it has assessed the likelihood of any threat being carried out as "extremely low".
Small New Zealand companies marketing formula in China were already seeing a cut in orders, Michael Barnett, chairman of the New Zealand Infant Formula Exporters Association, told Reuters.
"We have had our first response from the distribution network. They've reduced their orders, some of them by up to 70 percent," he said, adding that any negative online exposure could fan concerns in China.
The association includes small businesses which brand and market infant formula products manufactured by Fonterra and other New Zealand dairy companies.
Fonterra Chief Executive Theo Spierings said the criminal threat was targeted at New Zealand and the entire dairy industry.
"We can fully assure our customers and consumers that all of our milk and products are safe and of high quality, and our supply chain continues to be sure and world class," he said in a statement.
Fonterra had worked with the Ministry for Primary Industries, the food safety regulator, to establish a validated testing regime that is being used by the dairy industry for both raw milk and dairy products targeted by the threat, he said.
China is the largest importer of New Zealand dairy products, accounting for nearly one-third of all the country's dairy exports.
Song Liang, a leading dairy analyst, said any escalation of the incident, even as a threat, will affect New Zealand's exports to China and hurt consumer confidence.
But he said it is still a random incident, adding both sides should build an examination system to achieve seamless connection and sharing of information in the future.