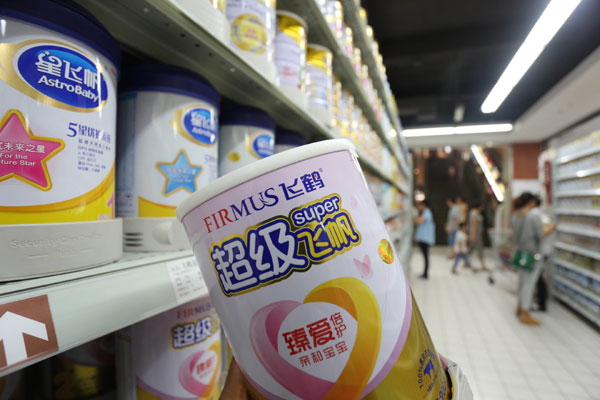 Milk powders in a supermarket in Xuchang, Henan province. Geng Guoqing / for China Daily  
Feihe Dairy, a subsidiary of Feihe International, received a production permit for milk powder on March 2, the first permit since the implementation of a new infant and baby formula production examination regulation.
The high standard to get the permit will spark a new round of reshuffling of milk powder producers in the country, industrial experts said.
China Mengniu Dairy Co Ltd also received a permit. Other dairy producers, including Sanyuan Food Ltd Co and Biostime Inc, are still in the review process.
About 128 infant and baby formula producers have to reapply and obtain production permits by the end of May to resume their productions.
The regulation is considered the most strict entry standard, particularly targeting those who do not manufacture milk powder in the same manufacturing bases.
Song Liang, an industry analyst, said the new regulation has required manufacturers to own farms and milk sources, as well as whole production chains. It is expected to phase out one-third of dairy enterprises this year, he said.