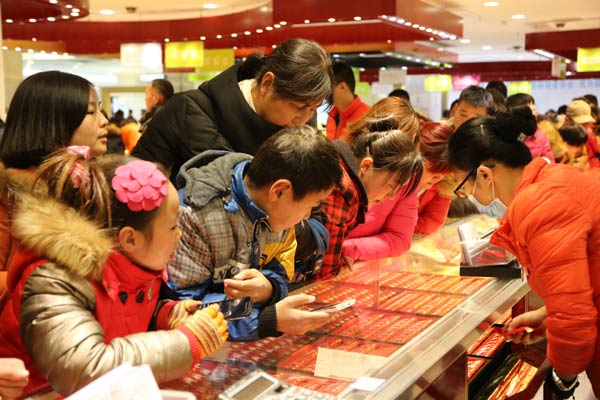 Potential buyers examine gold items at a jewelry store in Xuchang, Henan province. China's consumption growth is likely to witness a slowdown in 2015.[Provided to China Daily]
The nation is not importing things the way it used to. January imports plunged about 20 percent in dollar terms from a year earlier, caused in part by falling commodity prices-China is a big buyer-and the drag of a slowing economy on corporate spending.
Exports were not pretty either, having fallen 3.3 percent last month. "Domestic demand in China remains very weak, especially in the two most important types of imports: raw commodities and capital goods," wrote Louis Kuijs, chief China economist at Royal Bank of Scotland Plc.
A report suggests that a deeper problem lies ahead for multinational companies betting on China sales to drive global growth: The buying power of China's middle class is not expanding as quickly as many anticipated. That is pulling down overall per capita consumption growth, which dropped from 8.5 percent in 2009 to 7.1 percent now. The trend is likely to continue.
"We expect a clear if not disastrous slowdown in China's consumption growth in 2015," wrote Ernan Cui, an analyst at Beijing-based researcher GavekalDragonomics, in a report released earlier in February.
"The hit to consumption growth will come from the more gradual, but very real, slowdown in earnings of the middle-income households."
How can that be? China's urbanization policies were designed to bring hundreds of millions of people from farms to the cities over the next decade in an effort to unleash a surge of consumption greater than any the world has seen.
The urbanization boom was heralded by analysts, academics and even by China's top leaders. "China has much room for urban, suburban, and regional development and domestic demand has huge potential," said Premier Li Keqiang on Jan 21 at the World Economic Forum in Davos, Switzerland. "Domestic demand will keep improving and bring even greater development for the world."
That process, along with a slowdown in investment growth, is supposed to boost China's household consumption from its very low level of just 34 percent of the economy at present, well below the 50 percent to 60 percent common to most major economies.
By 2022, according to McKinsey China, the country could have a middle class of 630 million or more, accounting for 78 percent of urban households, up from 68 percent in 2012 and 4 percent in 2000.