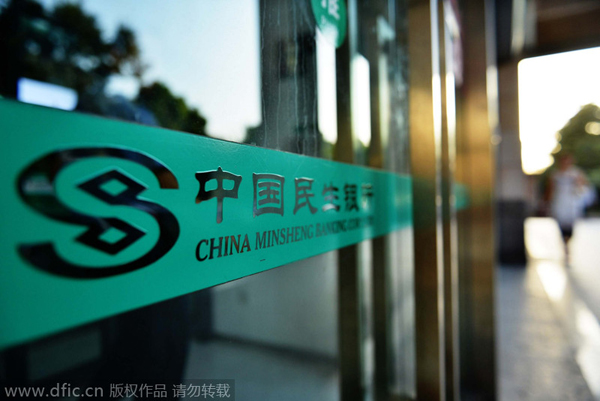 A pedestrian walks past a branch of China Minsheng Banking Corp Ltd in Hangzhou city, East China's Zhejiang province, Sept 16, 2013. [Photo/IC]
In terms of property insurance premiums, Anbang was ranked 18th among the country's major insurers, achieving 5.13 billion yuan in 2014, according to data from the China Insurance Regulatory Commission.
Zhao Shasha, an insurance analyst at Huarong Securities Co Ltd, said that there are many question marks around Anbang's shareholders' background and whether such aggressive expansion supported solely by capital injection from its shareholders could be sustainable.
Public information showed that a majority of Anbang's premium revenues come from insurance products sold through banking channels, which helped explain why Anbang has substantially boosted its holdings in banks such as China Minsheng Banking Co Ltd and China Merchants Bank Co Ltd, analysts said.
"This type of premium revenue is often short-term and unstable. And Anbang's reliance on a single source for premium growth may also pose a risk to its future development", Zhao added.
Anbang was founded in 2004 by State-owned companies including Shanghai Automotive Industry Group Corp and oil giant Sinopec Group. It has developed into a major insurer with more than 3,000 branches across the country.