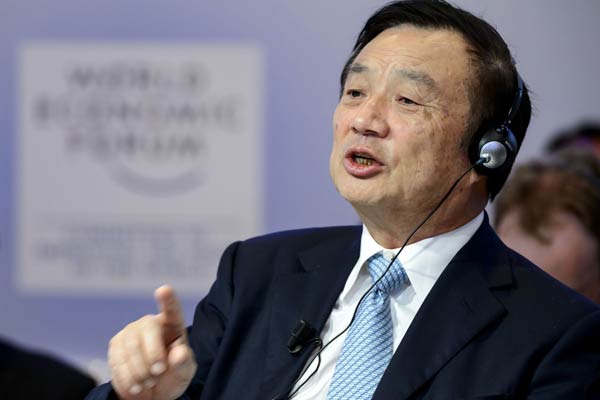 Huawei founder and president Ren Zhengfei speaks during a session of the World Economic Forum annual meeting onThursday, in Davos. [Photo/Agencies]
Better services, vision for future have helped in success of company
In an economic climate dominated by uncertainties worldwide, it is rare to hear a top business leader say his businesses are earning too much money and expanding too fast.
One is unlikely to hear him say that company executives are all working too hard, and that he himself is of no use.
Ren Zhengfei, founder and president of Huawei Technologies Co Ltd, the global telecommunications giant, said all of this on Thursday during a live interview with the BBC at the World Economic Forum in Davos, Switzerland.
"Many believe that I am too low-profile and mysterious," said Ren, who founded Huawei in 1988, when China begun to encourage private investment nearly 10 years after its reform and opening-up.
But the fact is, Ren said, "I do not know management; I don't know finance; and I don't know technology. I am a useless man. I would be better off sticking to science."
With an investment of less than $3,000, Ren started the company and developed it into a giant with 2014 sales revenues of $46 billion, riding a year-on-year growth rate of 20 percent.
"I don't want to grow so fast, but our heroes want to work hard to earn even more for the company," Ren said.
He said, with what seemed to be a note of pride, that the slowdown of China's economy and the worsening business climate last year have not affected his company too much.
And he is confident about the country's prospects, saying that even though the economic indicators are showing a moderate slowdown, the quality of growth has improved. His guess is that China will experience some difficulty in transformation this year and in 2016. "But I am sure that new patterns of economic growth will take shape after 2017 or 2018," he said.
In an interview that lasted less than an hour, Ren laid out many details of his business experiences, his management secrets and the story of Huawei's expansion to the United States and the rest of the world. He even fielded a question about how his company is treated by the US government and whether his company has military connections - a frequent query of foreign media.
He answered that the US has not treated his company badly.
"We have no background, no one to rely on. What we can do is working hard," he said.
When asked about the secret of his success, Ren's answer was simple: always putting clients and customers first. "There is no secret, only working hard to obtain more opportunities," he said.
"We do not steal from customers' pockets," Ren said. "What we do is offer services and think ahead about their needs."
He joked that if Huawei's married men could not make money, their wives would run away", as their income and dividends from the company would be reduced.
"So we must offer quality products and services," Ren said. "That is our golden rule."