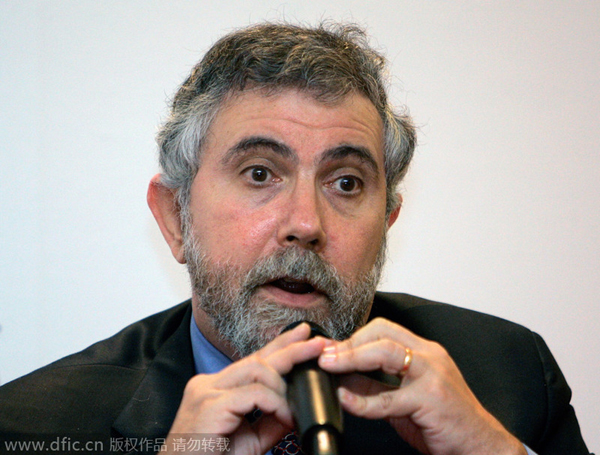 Nobel Prize-winning economist Paul Krugman speaks during a press conference at the World Capital Markets Symposium in Kuala Lumpur, Malaysia, Aug 10, 2009. [Photo/IC]
HONG KONG - Paul Krugman, the Nobel Prize- winning economist, said on Tuesday that he believes in the future of China in a "scary" world.
The professor of economics and international affairs at Princeton University made the comments at the Asian Financial Forum (AFF) 2015.
Concerned over the pessimism in Europe and a possible deflation in the United States, Krugman described the world as "scary" while saying "future still does belong to China, but maybe the future is a little bit further out we thought what it was."
He said China faces challenges including demographic changes and magnitudes of adjustment.
"China is a classic dual economy with a relatively advanced urban, coastal sector and a sort of backward hinterland rural sector, but it has been so successful in growing its modern economy," he said.
The demographic challenge, which is partially related to the country's one-child policy, means that the effective labor force in the country is actually slowing, according to the professor.
On the transition of China's economic development, the professor said the country needs to expand consumption to sustain its economic growth, suggesting that more policies should be made to encourage spending, for example, to create a stronger social safety net.
Talking about China's Hong Kong, the professor is quite optimistic by comparing the administrative region with Switzerland as the two look similar in terms of "numbers" such as gigantic foreign exchange reserves.
"This is all about psychology and dogma ... Hong Kong is a long- standing institutional thing, (it has) sound policies to maintain the existing system ... what matters is how it looks like in the minds of the public," he said.
He added that the people in China probably have a much better idea than he does to solve problems in the progress of economic development.