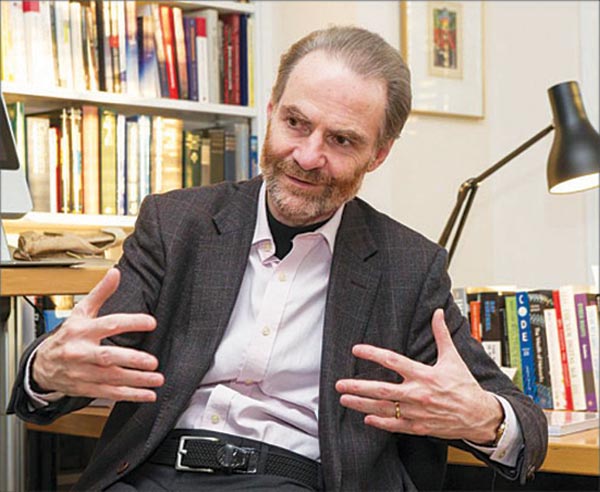 Timothy Garton Ash, an academic and author, believes modern China is increasingly a meeting point of great minds. [Photo/China Daily]
In the continent, unlike in the US, China is not seen as a major strategic competitor, says academic expert 
Timothy Garton Ash believes China and Europe have the opportunity to forge one of the great-power relationships over the next few decades.
The internationally renowned historian and commentator says such an alliance has far more potential than any the world's second-largest economy may have with the United States since it would be devoid of superpower rivalry.
"I think the Europe-China relationship is the neglected great-power relationship. Europe is China's largest trading partner so there is a massive economic relationship," he says.
"It is also a less difficult relationship than that with the United States, which is not taking kindly to relative decline. It is finding it more difficult to accommodate a rising China."
Garton Ash, who was speaking in his book-lined office at St. Antony's College, Oxford, where he is the Isaiah Berlin professorial fellow, says one of the obstacles to the developing relationship is attitudes in China itself.
"China in a curious way has gone through a large mood swing in its attitude toward Europe. A decade or more ago when George W. Bush was declaring a unipolar world, China very much saw Europe as an alternative pole," he says.
"The last few times I have spoken to specialists on Europe in China they have been quite contemptuous of the mess Europe has got itself into with the eurozone crisis and its failure to get its act together over a common foreign policy."
Garton Ash's most recent book, Facts are Subversive, which includes some of his essays and columns from the New York Review of Books and The Guardian, has just been published in Chinese by Guangxi Normal University Press. It is the second of his books to be published in the country.
Although best known for specializing in eastern Europe and the former Soviet Union, he has been an acute longstanding observer of China and now makes a point of visiting at least once a year. One of his sons Alec is, in fact, a writer and journalist in Beijing.