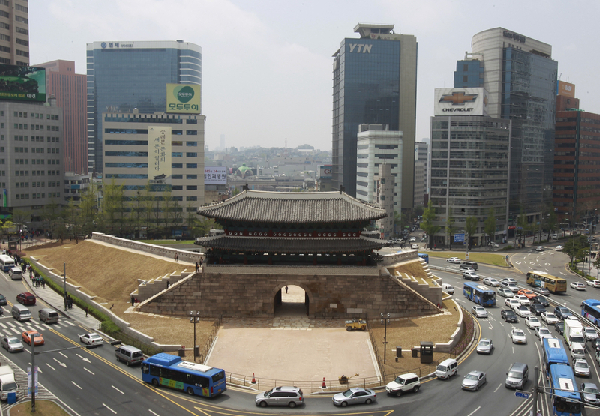 Sungnyemun gate is seen in downtown Seoul, South Korea, April 29, 2013. [Photo/IC]
WENZHOU - Building a free trade area (FTA) between China and the Republic of Korea (ROK) will enhance bilateral market connectivity and all-round communication, officials said Sunday.
The two countries started FTA talks in May 2012 and substantively concluded the negotiations in November 2014.
China's Ministry of Commerce (MOC) has said the agreement will be signed in 2015 and take effect in the second half.
Yang Yihang, an official of the MOC, said the two sides have reached agreements in dozens of sectors, including service, investment, finance and communication.
"Those agreements provide fresh opportunities for bilateral enterprises and market connectivity," Yang said at a forum focused on China-ROK industrial cooperation held in the eastern Chinese city of Wenzhou.
"The MOC will continue to promote bilateral investment in advanced manufacturing, film and TV production, cultural creativity and medical care," Yang said.
Hong Chang-pyo, a senior trade official with the ROK side, said establishing a bilateral FTA will help the two sides share market, reshape work division and change investment models of each other.
Hong expected "new normal" in bilateral investment scale, tourism and logistics storage, as well as more cooperation in renewable energy, environmental protection and automobile.
"The FTA will push for the combination of bilateral value chains," another MOC official Chen Ning said. "That will benefit the entire East Asia."
The FTA will also strengthen economic cooperation between local governments, as the governments of a few Chinese cities - such as Changzhou, Weifang, Weihai and Yantai - have expressed intention to set up ROK industrial parks, Chen added.