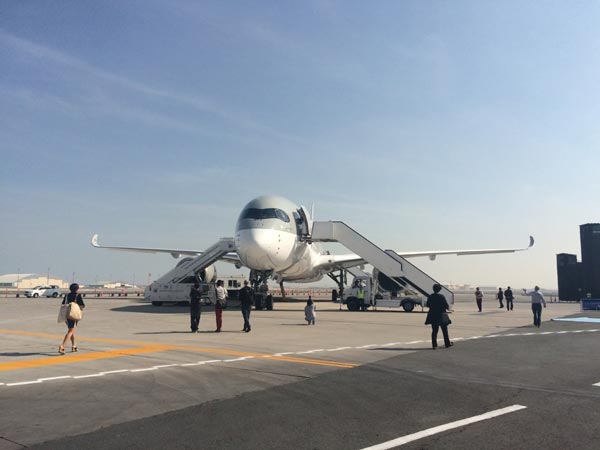 Airbus A350 XWB is a long-range, twin-engine wide-body jet airliners developed by Airbus. The A350 is the first Airbus with both fuselage and wing structures made primarily of carbon-fiber-reinforced polymer. [Photo/China Daily]
Qatar Airways Group, which received the world's first Airbus 350 XWB last month, expects to fly its new giant to China from early 2016, the chief executive of the group said on Wednesday.
Akbar Al Baker said it will use the A350 XWB to substitute its A330 aircraft currently flying to cities in China, including Hangzhou in Zhejiang province, Chengdu in Sichuan province, Guangzhou in Guangdong province and Chongqing.
The carrier currently uses Boeing 777-300ER and super jumbo A380 aircraft on its services to Beijing and Shanghai, and Al Baker also said it is considering launching services to new destinations in China.
"We are expecting to increase our efforts into the China market as the country has both a strong economy and tourism market," said Al Baker. Friendly political relations between the countries also provide a strong business opportunity for the carrier, he said.
Qatar Airways is the launch customer of the A350 XWB-extra wide body-which is being strongly touted as one of the market's most advanced aircraft.
Mike Bausor, Airbus' A350 XWB marketing director, said that by the end of November the European airplane manufacturer had received 778 confirmed orders for the extra wide-bodied variant.
Air China Ltd ordered 10 A350 XWBs in 2010, with those expected to be delivered by 2020. Hong Kong Airlines, a subsidiary of Hainan Airlines Co Ltd, is also waiting for 15 of the aircraft.