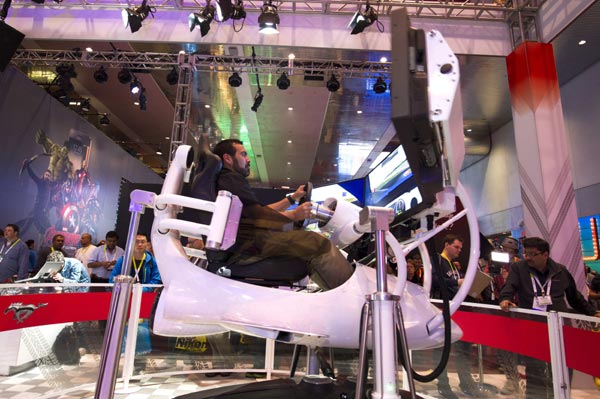 Thomas Bustos, a technology manager at the University of California, Merced, tries out a driving simulator in a Ford booth during the 2015 International Consumer Electronics Show (CES) in Las Vegas. [Photo/Agencies]
Automakers and Silicon Valley upstarts are kicking their efforts to define the car of the future into a higher gear, even though many of the players disagree about what that car should be.
The emerging autonomous vehicle technology sector is still in a turbulent stage akin to the old debate over "Betamax versus VHS" format. Standards are not yet defined, winners and losers are not sorted out and major players disagree sharply about the best way to bring the promise of safer, smarter cars to market.
Consider the contrasting visions of the automotive future put forward at the Consumer Electronics Show in Las Vegas this week by Mark Fields and Dieter Zetsche, the chief executives of Ford Motor Co and Daimler AG, respectively.
Ford's approach, Fields says, is to focus initially on connecting cars and their drivers to the mobile Web, with apps as the building blocks, and work on sensors and software that eventually will enable the development of fully autonomous vehicles in the next decade. Ford wants to develop affordable technology for a broad swath of consumers - the philosophy behind founder Henry Ford's Model T.
Daimler's Mercedes-Benz has a different idea from Ford - and worlds apart from Internet company Google Inc, which has jolted the automotive establishment with its high-profile effort to develop a fully self-driving city car.
Zetsche presented a futuristic Mercedes prototype at CES that could drive itself down city boulevards while passengers used hand gestures to call up information about restaurants along the route or receive invitations to party from friends nearby.
Where Ford wants to make autonomous cars for "Everyman," and Google envisions cars as pod-like appliances, Daimler presented robotic driving as part of a technology package that sets its premium cars apart from plebian rides. At the same time, Zetsche said Daimler could extend the self-driving concept to tiny "green" cars such as its Smart EV or into car-sharing programs such as its Car2Go enterprise - potentially challenging Google in that sphere.
"I hope you will still recognize us as being the inventor of the car," Zetsche told Reuters. "But we should be defined by our future, not by our past."