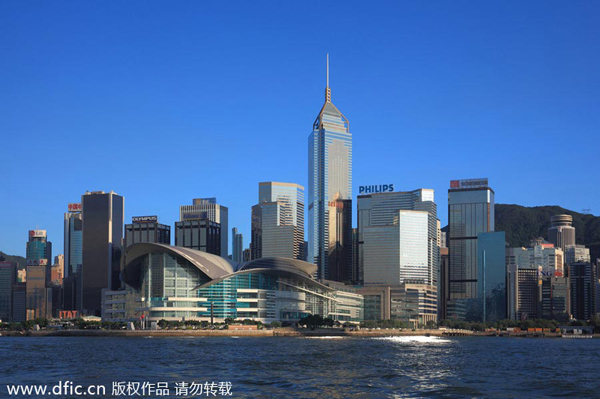 Hong Kong Convention and Exhibition Centre, front, Hong Kong Central Plaza, tallest, and other skyscrapers and office buildings along the Hong Kong Island coastline are seen from Kowloon in Hong Kong, China. Hong Kong is the second most expensive city for office space, with average price of 1, 432 euro per square meter per year. [Photo/IC]
HONG KONG - China's Hong Kong Special Administrative Region government supports the new global standard for automatic exchange of financial account information which can enhance tax transparency and combat cross-border tax evasion, Secretary for Financial Services and the Treasury KC Chan said here Monday.
"It is crucial for Hong Kong to adopt the latest global standard on tax transparency in order to maintain our international reputation and competitiveness as an international financial and business center," he said.
The Organization for Economic Co-operation and Development in July released a common standard for automatic exchange of financial account information in tax matters, calling on governments to obtain account information from their financial institutions and exchange that information automatically with the account holders' residence jurisdictions annually.
Hong Kong is committed to implementing the new global standard on a reciprocal basis with partners, which meet relevant privacy protection, confidentiality and proper use of data requirements.
"The HKSAR government will go through the usual due process of engaging relevant stakeholders, addressing relevant policy and legal issues involved, and seeking the Legislative Council's approval of the legislation required to implement the new global standard," Chan said.
The first automatic information exchanges are expected to start by the end of 2018.