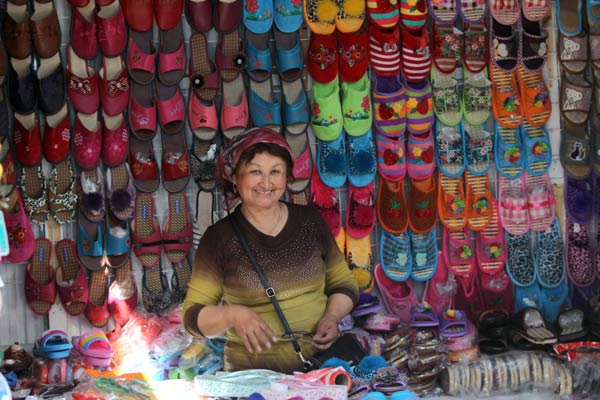 A shopkeeper from Urumqi, Xinjiang Uygur autonomous region, displays her products at a local market in Astana, Kazakhstan. ZOU HONG/CHINA DAILY
China should strengthen cooperation with countries along the Silk Road economic belt to offset the negative impact of rising labor costs, economists said.
The nation's exports are "losing competitiveness amid global economic turmoil and rising labor costs," said Zhao Jinping, director of the Research Department of Foreign Economic Relations at the Development Research Center of the State Council, at a forum organized by Economic Daily in Beijing on Wednesday.
As wages rise, traditional labor-intensive industries are under intense pressure, so China should boost cooperation with countries along the modern-day Silk Road where labor costs are lower, Zhao said.
In September 2013, during a visit to Astana, Kazakhstan, Chinese President Xi Jinping proposed that China and Central Asian countries should build a Silk Road economic belt to strengthen regional economic cooperation. He urged all parties involved to facilitate trade and investment and remove barriers.
The proposed Silk Road spans 18 countries with a population of nearly 3 billion, accounting for about one-fourth of global trade volume.
Zhao said that China should accelerate the establishment of the Asian Infrastructure Investment Bank and promote a regional free trade zone to boost economic cooperation with Central Asian countries.
Some cities in western China, such as Xi'an in Shaanxi province, can be hubs for transportation and cultural exchanges, which will attract more foreign investment from Silk Road countries.
"We are working to reach an agreement with Kazakhstan to build a Eurasian railway," said Zhu Lieke, vice-governor of Shaanxi province.
"Xi'an already has direct flights to Seattle, Singapore and Moscow, and flights to Paris and Alma-Ata (in Kazakhstan]) will be launched soon," Zhu said.
Some universities in Shaanxi are involved in academic and research cooperation with universities in Central Asian countries. It is projected that there will be about 1,500 students from Central Asian countries studying in Xi'an annually, Zhu said.