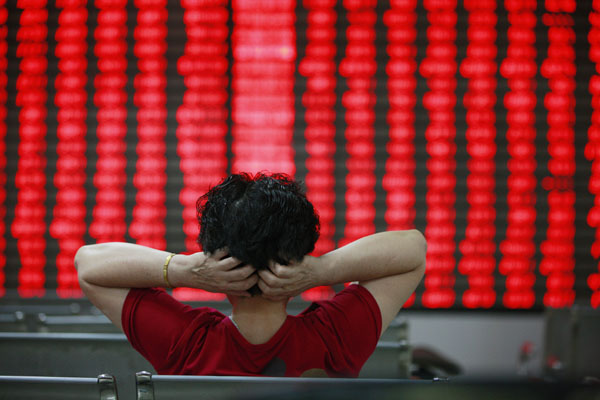 A lady gazes at the screen to monitor the change in stock market, Huaibei city, Anhui province, Sep 2, 2014. [Photo/Asianewsphoto]
BEIJING - Chinese shares extended gains for a fourth trading day on Wednesday, with the key Shanghai Composite Index rising to its highest level in 15 months.
The index rose 1 percent to finish at 2,288.63 points while the Shenzhen Component Index gained 0.9 percent to close at 8,115.87 points.
Combined turnover of the two bourses also shot up to a historical high since Nov 2011, totalling 403.3 billion yuan ($65.37 billion), up from 367.8 billion yuan the previous trading day.
Banks, securities firms, and the coal sector rose. The Industrial and Commercial Bank of China, the nation's largest lender, gained 0.85 percent to finish at 3.55 yuan per share; Huatai Securities rose 0.93 percent to 8.69 yuan; China Shenhua Energy Co Ltd, the nation's coal producer, rose 1.51 percent to 15.44 yuan.
Media-related stocks also led the gains with China Television Media Ltd surging 4.15 percent to 20.56 yuan.
The Shanghai Composite Index closed a little short of 2,300 points after official data released on Wednesday morning showing recovery in the nation's non-manufacturing activity, with the purchasing managers' index rebounding to 54.4 percent in August, up from 54.2 percent in July.
The Shanghai and Shenzhen stock indices have jumped 8.2 and 6.8 percent respectively since the beginning of July, stirring rising expectations for return of a bull market after gloom and doom over the past five years.