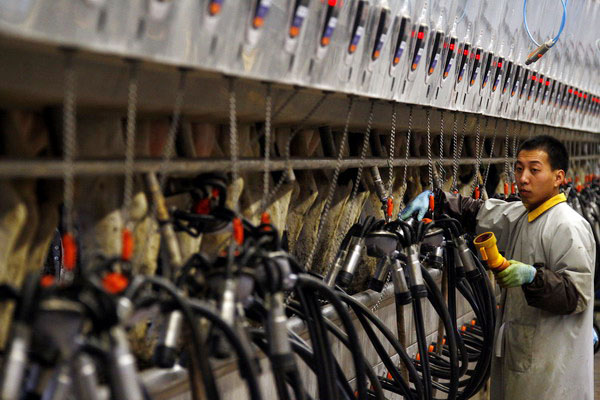 A worker prepares to milk cows at a farm managed by New Zealand dairy giant Fonterra Co-operative Group Ltd in Yutian county, Hebei province. The group will form a partnership with Beingmate Baby & Child Food Co Ltd to tap the infant formula retail market in China. [Photo / Agencies]
New Zealand company's huge scale to 'enhance Beingmate's supplies'
New Zealand's Fonterra Co-operative Group Ltd, the world's largest dairy exporter, will form a partnership with Hangzhou-based Beingmate Baby & Child Food Co Ltd to tap the lucrative formula retail market in China.
Fonterra said it will invest $514 million in the arrangement to create "a fully integrated global supply chain from the farm gate to China's consumers", using Fonterra's milk pools and production sites in New Zealand, Australia and
Europe
.
Fonterra will soon issue a partial tender for up to 20 percent of its partner's Shenzhen-listed shares.
After gaining regulatory approval and completing the tender offer, Fonterra and Beingmate will set up a joint venture to purchase Fonterra's Darnum plant in Australia.
Fonterra Chief Executive Theo Spierings said on Wednesday in Beijing: "Fonterra and Beingmate will also look to open up sales and distribution platforms and channels to introduce more high-quality products and services to targeted consumers."
He said that Fonterra's expertise in dairy, particularly in the areas of farm management, milk production, dairy processing, quality control, tracking and tracing, dairy nutrition and innovation will support the joint venture.
Beingmate Chairman Wang Zhentai said: "Working together with Fonterra, we will create globally competitive, safe and secure supply chains to deliver high-quality, advanced dairy nutrition to meet the needs of China's growing population as well those of global consumers."
Wang said the partnership is "nonexclusive and mutually beneficial".
Fonterra is forging alliances and developing farms in China to cash in on the fast-rising demand from Chinese consumers for infant milk products. In July, Fonterra and Abbott Laboratories signed an agreement to develop a dairy farm hub in China.
"Fonterra is already helping create a vibrant local dairy industry through farm investment, sharing technical expertise, providing high-quality imported ingredients to local food manufacturers and innovative dairy solutions to the food service sector," said Fonterra Chairman John Wilson.
Ben Cavender, a researcher at China Market Research Group, said seeking a local brand is a way for foreign specialized brands such as Fonterra to gain a stronger position in distribution and marketing by gaining more access to consumers.
The deal is a further sign of how the domestic dairy industry is being transformed to become more integrated and concentrated. Working with international top dairy producers or investing overseas is helpful during such a transformation, said Song Liang, an industry analyst.
Beingmate set up a subsidiary in Ireland in November and has stepped up its collaboration with Kerry Ingredients (Ireland) Ltd.
Fonterra's huge scale will greatly enhance Beingmate's supplies, Song said.
He said that domestic dairy producers are lagging their foreign counterparts in terms of food safety and farming practices. Yet the days when domestic dairy giants could control the market merely by dominating the distribution channels are over, because new channels such as the rise of e-commerce have weakened their power.
In the dairy industry of the future, the competition will be for resources.
Last year, infant formula sales in China reached 60 billion yuan ($9.67 billion), and sales are set to rise to 100 billion yuan by 2018, Song said.