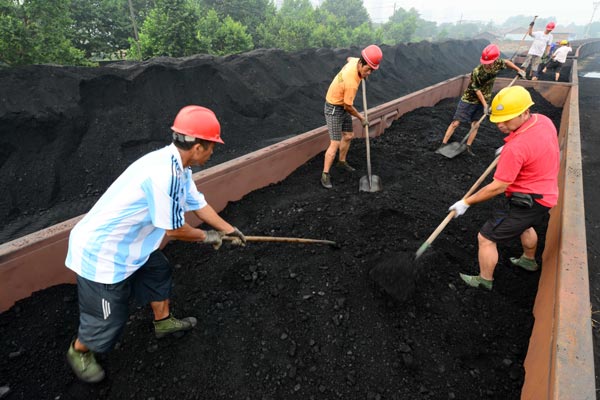 Coal is loaded into trucks at a railway station in Jiujiang, Jiangxi province. The increases in the price of coal are regarded as a sign that prices may have bottomed out and that the supply-demand situation will become balanced in the short term. [Photo/China Daily]
Association has urged mines to cut production and reduce inventories
The coal sector is taking steps to escape the triple trap of falling prices, weak demand and continued losses.
Shenhua Group Corp Ltd, the country's biggest coal producer, raised its price for the fuel to 489 yuan ($79.36) a metric ton at the start of the month.
Another State-owned coal company, China National Coal Group Corp, subsequently raised its price by 4 yuan a ton for a range of coal products.
Dai Bing, director of the coal industry department at JYD Online Corp, a Beijing-based bulk commodity consultancy, said the increases are a signal that coal prices may have bottomed out and the supply-demand situation will become balanced in the short term.
Affected by overcapacity and slowing economic growth, conditions in the coal industry have been depressed since the beginning of the year.
According to data from the China National Coal Association, 70 percent of coal companies are losing money. As of June 30, national coal inventories stood at a record high of 99 million tons.
Meanwhile, domestic coal prices have fallen 11 percent since Jan 1 to a five-year low.
Shanxi province, a traditional source of the fuel, accounts for about 25 percent of national output. And the impact of the weak coal industry has been felt in Taiyuan, the provincial capital, where GDP grew a mere 0.1 percent in the first quarter, compared with 9.5 percent a year earlier.
The coal association has urged mines to cut production and reduce inventories. It suggested a production cut of 10 percent overall in the second half and said the largest companies should cut output by 50 percent based on their production levels in June.
In response, Shenhua said it will cut output by 50 million metric tons this year, which will mean the first decline in annual production after 15 years of growth.
In 2013, Shenhua produced 460 million tons of coal.
The National Development and Reform Commission, the top economic planner, released an industry document on Wednesday in which it encouraged large coal mining companies to sign long-term supply contracts with major consumers.
Dai said that such arrangements will help coal companies make better production plans for next year to ensure supply.
However, Xing Lei, a professor at the Institute of China Coal Economy at the Central University of Finance and Economics, said that the industry's problems cannot be solved soon and demand will not rebound much in the second half of this year.