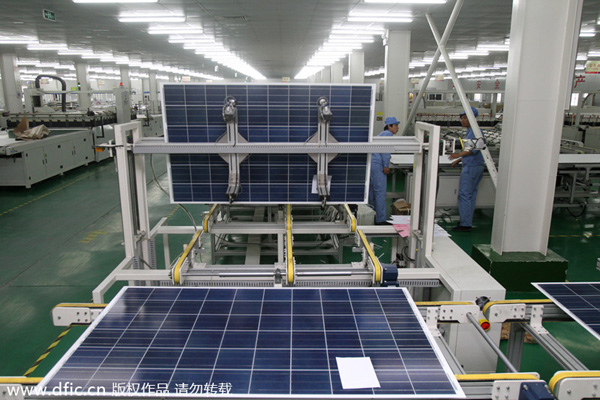 Chinese workers manufacture solar panels at the plant of Eoplly New Energy Technology Co, Ltd in Nantong city, East China's Jiangsu province, Nov 18, 2011. [Photo/IC]
BEIJING - The Ministry of Commerce (MOC) announced on Monday that China is strongly dissatisfied with the United States for its anti-dumping and countervailing probes into Chinese exports of photovoltaic products.
"China is also strongly dissatisfied with the US in leaving the photovoltaic trade dispute to escalate," the MOC announced after the US Commerce Department on Friday set preliminary dumping margins on imported photovoltaic products from China.
The department made its preliminary affirmative determination that crystalline silicon photovoltaic products from Chinese mainland and Taiwan had been sold in the United States at dumping margins ranging from 26.33 percent to 165.04 percent, and 27.59 percent to 44.18 percent, respectively.
The MOC said that the US disregarded facts and lacked legal support by using contradictory rules of origin against Chinese photovoltaic products frequently, which is abuse of trade remedy measures.
"Frequent use of trade remedy measures will not help the US solve its own problems in its photovoltaic industry. China hopes the US uses discretion during the probe and ends investigations as soon as possible," the MOC said.
It said that the US trade remedy measures launched in 2012 against Chinese photovoltaic products had seriously affected the normal trade of such products.
The MOC said that trade disputes are unavoidable, and the US government has the responsibility to put trade frictions under control before they impede Sino-US trade and economic relations.
According to the US commerce department, punitive duties would be imposed after both the Commerce Department and the US International Trade Commission (ITC) made affirmative final rulings, which are scheduled on Dec 15, 2014 and Jan 29, 2015, respectively. If the ITC makes a negative determination, the investigations will be terminated.