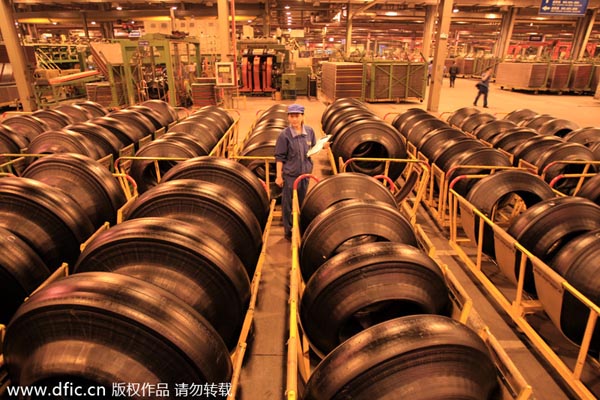 A worker checks new tires at a tire plant of Double Coin Holdings Limited in Nantong city, East China Jiangsu province, May 8, 2010. [Photo/IC]
BEIJING - China's Ministry of Commerce (MOC) on Friday voiced strong opposition to the decision by the US Department of Commerce to launch an investigation into imported Chinese tires.
The probe was started "despite serious flaws in the application for the investigation and opposition from the US tire industry and related sectors," an online MOC statement quoted an unnamed official as saying.
The anti-dumping and anti-subsidy investigation into tires used in passenger vehicles and light trucks "breaches the rules of the World Trade Organization (WTO) and US laws. We are strongly opposed to the decision," the official added.
The United States took "special safeguard measures" in 2009, leading to added duty on Chinese-made tires, ranging from 25 percent to 35 percent, in addition to the original tariff of 4 percent.
While the United States claimed the "safeguard" can be invoked if a surge in imports hurts US manufacturers, as agreed between China and the United States before the former joined the WTO, China holds this act as trade protectionism.
The 2009 case resulted in serious harm to China-US trade ties, the official said.
"The facts show that the special safeguard measures taken by the United States have brought about substantial damage to its tire industry, and it has harmed others without benefiting itself to take protectionist measures to restrict free trade and market competition," they added.
"China is against the abuse of trade remedy measures and hopes the United States can learn lessons and prudently handle the case so as to not harm trade and cooperation between the two countries, " according to the official.