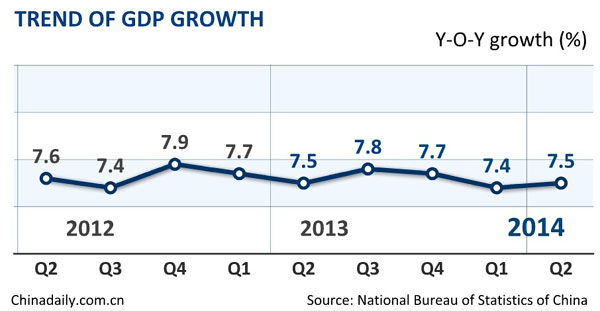 Missing its whole-year growth target, the Chinese economy still proved resilient after it expanded by 7.4 percent year-on-year in the first half of this year.
The growth, which is at par with the first-quarter reading, has been achieved against the backdrop of the country's ongoing economic restructuring - which has had an inevitable adverse effect on growth - and its refusal to rely on large-scale stimulus programs to generate growth. In other words, the country has made a successful first step in shaking off the old growth pattern built on easy monetary expansion and unrestrained stimulus.
Admittedly, China is yet to be fully weaned off any stimulus given the unfavorable domestic and international economic climate. It has had to take a slew of mini-stimulus measures to combat the economic slowdown caused by the depressing property market and weak international demand. It has increased investment in infrastructure and rebuilding of shanty towns, cut taxes for small enterprises, lowered the threshold for private companies to enter some previously monopolized sectors and reduced reserve requirement rates for financial institutions servicing small and rural enterprises.
Alongside those small-scale stimulus measures, China has moderately eased its monetary and fiscal stance, as reflected in the significant increases in new yuan loans and government spending in June. The banks made 1.08 trillion yuan ($174 billion) of new yuan loans in June, much more than the market has expected. The country's fiscal expenditure surged by 26.1 percent year-on-year while its fiscal revenues rose by only 8.8 percent in the same month.
As it takes stimulus measures to shore up the slowing economy, China has refrained from intervening with the market to shore up the economy. Although the property sector is slowing down, for example, it has been resolved to allow the market forces to play a decisive role in the price corrections of the industry.
In line with such a market-oriented stance, the central government has significantly reduced its administrative power in approving business-related projects, which is set to improve the easiness of doing business in China.
It has also made more efforts to protect intellectual property rights and encourage corporate innovation and technological upgrading, which helps China's drive to make its economy more innovation- and technology-driven.
While such measures targeted at long-term growth sustainability inevitably weaken short-term growth momentum, the June data show that China is capable of striking a balance between restructuring and maintaining stable growth.
Neither the first-half GDP growth of 7.4 percent or the first-quarter reading of 7.5 percent is exceptional. But as Premier Li Keqiang has said, it is acceptable so long as it does not deviate too far from the country's growth target of 7.5 percent for this year.
With growth stabilized, policymakers will have more room to tackle the challenge of deleveraging and restructuring.
With the economic fundamentals yet to improve substantially, however, policymakers could meet a bigger challenge in the second half, when the weakening real estate sector could constitute a heavier drag on China's growth prospects. Policymakers should continue to walk on the tightrope and get well-prepared for contingencies.
If they do not want to resort to large-scale stimulus to keep the economy going, then they must take more forceful measures to reduce the financial burdens of the corporate sector. They can help guide down the general interest rates of loans and continue to cut taxes so that the enterprises can become more resilient when the overall economy sours as a result of the real estate woes.