The nation's top three telecom carriers - China Mobile, China Unicom and China Telecom - on Friday signed an agreement to set up a joint venture to deploy base station network infrastructure in China.
The long-awaited "iron tower company" is expected to add further momentum for construction projects related to fourth-generation telecom base stations.
The JV, China Telecommunications Equipment Service Co Ltd, will handle all the base station construction, operation and maintenance works in the country and marks a departure from the earlier practice of separate base stations for each telecom company. The earlier practice had led to disputes in some places as the carriers selected the same location for the communications towers.
China Mobile Co Ltd, the largest carrier by subscriber numbers, will control 40 percent of the new company's shares while the two smaller firms, China Telecom Corp and China United Telecommunications Co Ltd, will hold the balance, according to joint statement released by the carriers.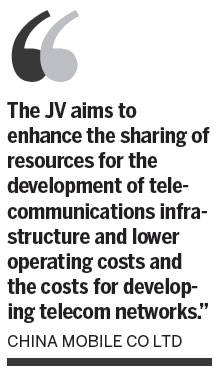 The registered capital of the new company will be around 10 billion yuan ($1.6 billion). The statement did not say when the new company will commence operations. Sources from China Mobile told China Daily that the JV could open for business as early as this quarter.
Xiang Ligang, telecom researcher and founder of industry site CCTime.com, said the JV will help the carriers reduce construction costs as tens of thousands of 4G stations are slated to be built in the next few years.
China Mobile, the leading 4G developer in China, is planning to add half a million 4G stations before the end of this year. Its 4G coverage already reaches several major Chinese cities.
"The JV aims to enhance the sharing of resources for the development of telecommunications infrastructure and lower operating costs and the costs for developing telecom networks," the company said in a filing in last month.
The Ministry of Industry and Information Technology announced in late May that it will allow China Telecom and China Unicom to test a joint 4G network using two different technology standards in 16 cities including Shanghai, Chengdu, Xi'an and Wuhan.
The policy means the smaller carriers have also officially entered the 4G race.
Industry sources believe China is set to become the world's largest 4G market in terms of user numbers due to its high smartphone adoption rate.
About 120 million 4G-enabled smartphones will be sold in China this year, taking the total smartphone shipments to 450 million, industry research firm IDC estimated.
"It remains a young and competitive market for all the players, although China Mobile kicked off its own 4G project six months before the other two," said Xiang, adding marketing strategies could help the latecomers close the gap with China Mobile.