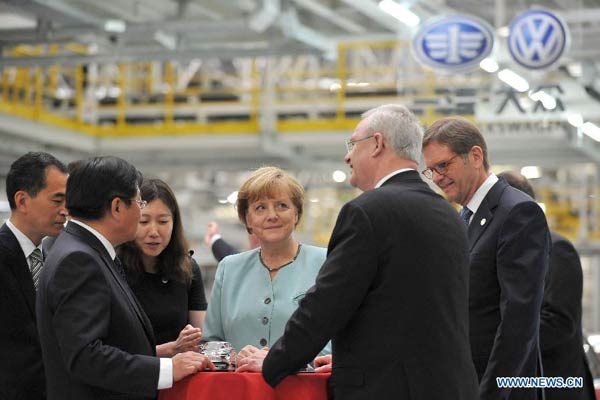 German Chancellor Angela Merkel (C) visits the branch company of FAW-Volkswagen in Chengdu, capital of Southwest China's Sichuan province, July 6, 2014. [Photo/Xinhua]
Visiting German Chancellor Angela Merkel toured an FAW-Volkswagen joint production plant in Chengdu on Sunday, marking the prelude to a program of building electric charging stations for cars and infrastructure in China.
The plans are expected to be unveiled on Tuesday while Merkel visits Tsinghua University in Beijing, according to Jochem Heizmann, a Volkswagen Group board member and president and CEO of Volkswagen Group China.
"Our priority is plug-in hybrids (electric vehicles)," Heizmann said. "We're working very intensively on the issue."
Merkel has previously emphasized the significance of energy efficiency and conservation to German enterprises' overall development strategy in China.
While visiting the plant, Merkel said she was impressed with the company's efforts to cut energy consumption by 26 percent and water use by 90 percent by using new technology in the factory's oil and gas workshop.
At the plant, Merkel sat in a new Jetta sedan, which is the factory's star product, and asked questions about the car. She also visited the plant's training workshop.
"Her main interests in our plant are the training programs and qualification programs," Heizmann said. "We are in China creating a lot of highly qualified jobs."
The plant has more than 9,000 employees, and the factory's presence can indirectly create more than 100,000 jobs, such as car dealers and their employees, the company said.
In 2009, the German auto giant's joint venture launched its third Chinese entire-vehicle manufacturing plant in Chengdu's Longquan district, 12 km from downtown Chengdu.
Making cars and auto parts is the district's pillar industry, attracting eight German auto suppliers such as FAW-Volkswagen and technology provider Bosch.
FAW-Volkswagen has invested more than 17 billion yuan ($2.7 billion) in Chengdu, and follow-up funding could provide an additional 3 billion yuan this year, according to the Economic & Technological Development Zone in Chengdu's Longquan district.
Last year, the Chengdu factory produced 480,000 vehicles, about a third of the joint venture's annual production capacity in China.
That accounts for about 60 percent of Chengdu's annual vehicle production. The factory expects to manufacture 600,000 cars this year.