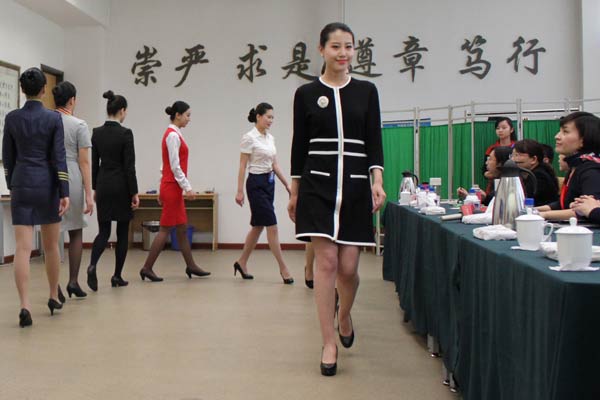 Applicants for flight attendant positions are tested by the China United Airlines Co Ltd in Beijing in March. China United will be the first State-owned low-cost airline to operate in China. Wang Zhuangfei / China Daily
Company takes low-price route to expand reach
After two years of preparations, China Eastern Airlines Co Ltd has officially announced that it's converting China United Airlines Co Ltd, its Beijing-based subsidiary, into a low-cost carrier on Wednesday.
China United will be the first State-owned low-cost airline in China, making China Eastern the first of the top three airlines to take concrete action on moving into the low-cost market.
The average fare on China United will be 20 to 40 percent below current prices, a level made possible by improved efficiency and lower operating costs, said Zhang Lanhai, president of China United, who assumed the role this week amid the conversion.
The carrier is also building its own distribution channel, which can cut costs and provide value-added services, he said.
"Strategic or financial investors may be introduced to the budget carrier in the future, as well" Zhang added.
By the end of 2019, the new carrier aims to have 80 aircraft, Zhang said, compared with a fleet of 26 Boeing 737 aircraft at present. That will increase to 31 airplanes by the end of 2014.
The airline also hopes to carry "tens of millions" of passengers annually, he said.
New planes will be configured to have only economy-class seats, a hallmark of low-fare carriers. The current fleet will still have first-class cabins, said Tang Bing, chairman of China United. Those cabins will be the airline's value-added services, Tang said.
Driven by market demand and government encouragement, major Chinese airlines - including the three State-owned giants - are showing an interest in low-fare carriers.
This kind of airline "will have explosive growth in China," said Liu Shaoyong, general manager of China Eastern.
Many full-service airlines have started planning to launch low-cost carriers, Liu said, and budget airlines are developing faster in Asia in recent years. But budget carriers in China have only 7 percent of the air travel market, while the global average is 26 percent.
"The market potential is huge in China," Liu said.