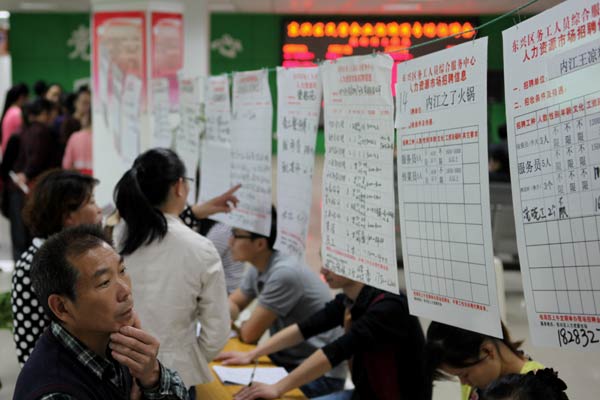 Employers in Neijiang city, Sichuan province, have expanded hiring opportunities this year. More companies expect to boost headcount during the second half of the year, thanks to the rapidly stabilizing economy and renewed business optimism in the country. LAN ZITAO/CHINA DAILY
More companies to boost headcount by end of year, says Hudson study
Employment prospects remain robust in China, with more companies expected to boost headcount during the second half of the year, thanks to the rapidly stabilizing economy and renewed business optimism, a leading global talent solutions company said on Wednesday.
Though Chinese employers added fewer employees during the first six months of the year than the same period of last year, their confidence in the country's economy still remains high, Hudson said in its Employment Trend Report. Hudson said that 53.2 percent of the 1,057 Chinese employers it polled for the report indicated that they would increase employee intake in the second half of this year.
The report said that three sectors-property and construction, banking and financial services, as well as information technology and telecommunications-will generate the much-needed momentum for hiring, fueled by the rapid development of the e-commerce industry in China.
Contrary to perceptions that the Chinese property industry is undergoing a downturn, about 84.8 percent of the respondents said they would hire more people in the second half of the year. E-retailers would be the main driving force for hiring as they would need to set up their own distribution centers to avoid logistical bottlenecks. Companies will need talent for operations like engineering, construction project management, quality surveys and contractor management, said Cherol Cheuk, joint general manager of Hudson Shanghai.
"Demand is also high for corporate real estate roles. As organizations seek to drive down costs, they will need talent with knowledge and strategic thinking to help them uncover opportunities to save money through smart leasing, renting and investment decisions," said Cheuk.
The rise of e-commerce and Internet shopping, robust economic growth and supportive government policies are also driving the rapid expansion of China's express industry, which grew by 61.6 percent year-on-year in 2013, according to a joint report by global consultancy firm Deloitte and the Development & Research Center of the State Post Bureau. Judging by the current momentum, the express sector is expected to become an industry of 280 billion yuan ($45.16 billion) by 2015, with an average annual compound growth rate of 39.4 percent.