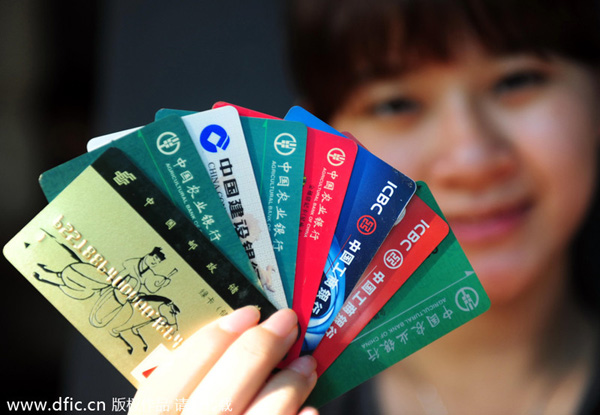 A woman shows credit cards and other bank cards in Qionghai city, south Chinas Hainan province, April 14 2012. [Photo/IC]
As of the first quarter of this year Chinese banks have issued 414 million credit cards, an increase of 5.83 percent from 391 million at the end of 2013, according to the People's Bank of China (PBOC), the central bank.
The Industrial and Commercial Bank of China, China Construction Bank and China Merchants Bank are the top three credit card issuers, offering more than 190 million credit cards in total, according to the 2014 Credit Report released by the web portal Netease, which studied the annual reports of 14 national banks.
According to the results of Netease's online survey of 30,365 consumers, approximately 80 percent of people hold less than three credit cards. Most (31.98 percent) have only one and 47.9 percent have a card that is most frequently used.
As the prevalence of credit cards grows people tend to spend more money than they have. The phenomenon of excessive consumption leads banks to see a hike in bad loans.
Statistics from the PBOC showed that credit card debt at least six months overdue rose to 28.20 billion yuan ($4.55 billion) as of the first quarter of this year, up 11.92 percent from 25.19 billion yuan at the end of 2013.