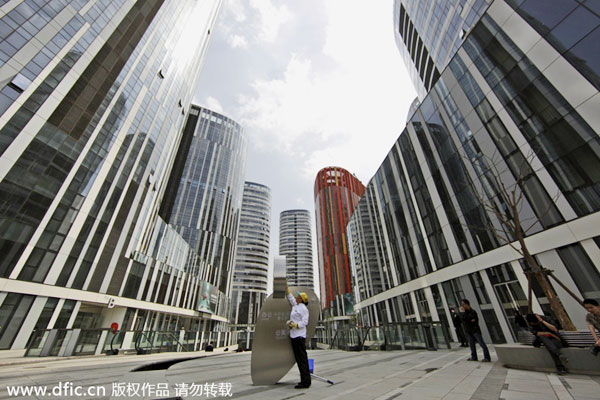 A Chinese woman cleans a banner outside commercial and residential buildings in Beijing.{File photo/IC}
Economists: Sustainable growth still achievable in the long run
China won't be able to achieve a transition to a sustainable growth model without at least paying a short-term price, top economists said on Tuesday.
By the end of the decade the property market will no longer be a major driver for the Chinese economy. But "the country should be able to grow for another 20 years at 5 to 6 percent. That is a fantastic performance for a country that has already come as far as close to the frontier as possible," said Willem Buiter, global chief economist of Citigroup Global Markets Inc, at a media briefing in Beijing.
The slowdown in China's housing market will increase the risk of an economic downturn while the fine-tuning measures taken by the People's Bank of China cannot offset the pressure of the housing market slide, said Shen Minggao, head of China Research at Citigroup.
"Combining the effect of property market downturn with economic restructuring, there are two possibilities for the direction of Chinese macroeconomic policy: If the government will stick to this year's 7.5 percent growth target, stimulus packages will become the new normal whereas economic restructuring will become the second choice. But if the government accepts the healthy adjustment of housing prices, it will have to reduce the growth target appropriately and expedite the process of finding a new growth engine to replace the real estate sector," said Shen.
He estimated that housing prices will be down by about 10 percent this year and noted that a housing bubble burst is unavoidable in third- and fourth-tier cities as well as some cities in central and western regions.
Yao Wei, China economist at Societe Generale SA, also expressed the view that the housing bubble will burst in some Chinese cities due to the tight credit conditions. Housing prices will be reduced in some cities where homes are oversupplied or overpriced, although a national systemic risk can be avoided.
"The demand and supply of houses in China has come to a turning point," said Yao. "The population growth in third- and fourth-tier cities dropped significantly after 2008, but housing construction in these cities accounted for 75 percent of the total housing construction in China during the same period. Without the support of rapid credit expansion, the property market will certainly experience a downturn."
But she pointed out that the slowdown in the housing market will actually benefit the long-term development of the Chinese economy because the adjustment of housing prices will accelerate the nation's urbanization process.
Currently, migrant workers cannot afford a home after they come to cities. That is a major bottleneck for China's urbanization, which will get a shot in the arm if housing prices return to reasonable levels, especially in small cities, she said.