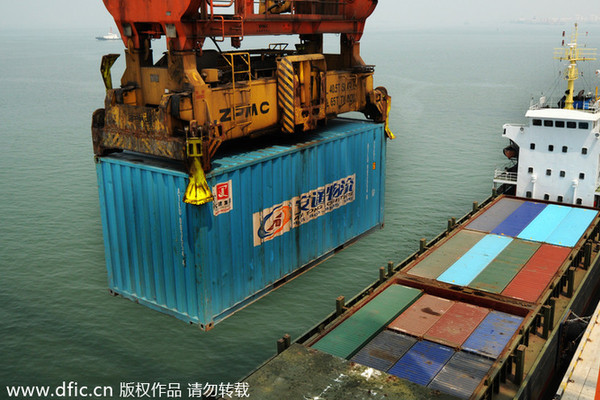 The container terminal of Qinzhou Port in the Guangxi Zhuang autonomous region. As a major conduit to Southeast Asia, Qinzhou is expected to benefit from launching of the Maritime Silk Road. [Photo/IC]
Local leaders say State support crucial for the concept's success
When President Xi Jinping proposed the "Maritime Silk Road of the 21st Century" during a state visit to Indonesia last year, most officials in Qinzhou, in the Guangxi Zhuang autonomous region, had no idea what Xi's proposal would mean for the port city, which was the starting point of the ancient Maritime Silk Road thousands of years ago.
One thing they did recognize was that Xi's proposal would bring new opportunities for Qinzhou to secure greater support from the central government.
Qinzhou is a major conduit to Southeast Asia, with a national-level bonded port area and a Malaysian industrial park.
Pei Yun, deputy director of the port administration bureau, said so far, he has not received any notes from the city government about the new initiative.
"The central government should step up its funding and policy support for Qinzhou port if it really wants to boost connectivity with Southeast Asia," he said.
Most local officials and residents would agree. Huang Lihe, an official from Qinzhou's development and reform commission, said the commission is busy drafting applications to the central government regarding what Qinzhou would bring to the Maritime Silk Road, as well as what help it would need to get the job done.
"Improving the port is the main priority for Qinzhou," Huang said. "Opening new lines connecting with the 47 major ports in Southeast Asia and building a maritime search-and-rescue system in the region are beyond the capacity of Qinzhou," he added.
Up until a few years ago, the port could not handle more than 1 million tons. But when China began deepening its integration into the Association of Southeast Asian Nations, the port's handling capacity swelled to 60 million tons and 600,000 standard containers last year.