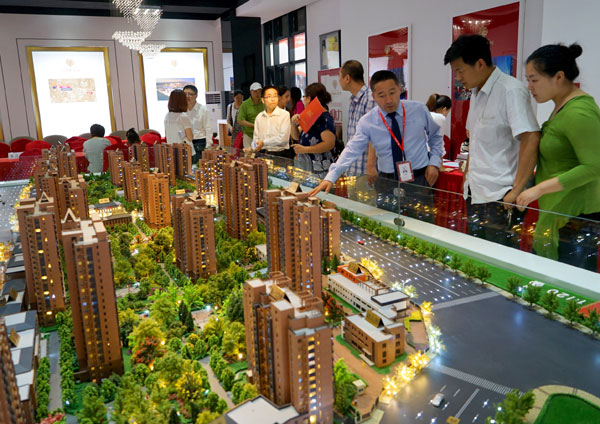 Potential homebuyers inspect models of housing developments in Beijing. Provided to China Daily
Home prices in major Chinese cities posted their first monthly decline in nearly two years in May, an independent survey showed on Saturday, providing new evidence the once red-hot market is losing steam.
The average price of a new home in 100 major cities declined by 0.32 percent from April to 10,978 yuan ($1,750) per square meter, according to the China Index Academy, the first fall since June 2012.
Prices dropped in 62 cities and were unchanged in one, according to the academy, the research unit of the real estate website operator Soufun.
The biggest monthly fall was in Shantou, Guangdong province, where prices slumped 3.64 percent compared with April.
"Rising market supply and sharp falls in transactions have put relatively heavy pressure on property developers' sales, leading some to beef up promotions and adjust their pricing strategy," the academy said in a statement.
Year on year, new home costs rose by 7.84 percent in May, 1.22 percentage points lower than April and the fifth consecutive month the increase has slowed, it said.
But, in 31 of the 100 cities, prices fell on an annual basis, with those in Wenzhou - a center of private enterprise and lending in the eastern province of Zhejiang - dropping most, down 8.30 percent.
The survey added to signs that China's property market is cooling, with analysts pointing to factors including stringent bank loan criteria, expectations of falling prices, and financial trouble among developers.
The government has sought for more than three years to contain rising property values, while also promising to add to the supply of affordable housing, as price increases stoke discontent among ordinary citizens unable to afford new homes.
Market control measures have included restrictions on purchases of second and third homes, higher minimum down payments and taxes in some cities on multiple and non-locally owned homes.
But, at the same time, local authorities make much of their income by selling land to developers, and have often rushed to loosen limits on purchases when property prices have fallen.
Among China's 10 biggest cities, Nanjing, in Jiangsu province, saw the biggest fall in May, with prices declining 1.36 percent month-on-month, the statement showed.
Only two places - Beijing and Tianjin - saw new home prices rise, with the average cost in the Chinese capital rising 0.69 percent from April to 33,472 yuan per sq m.