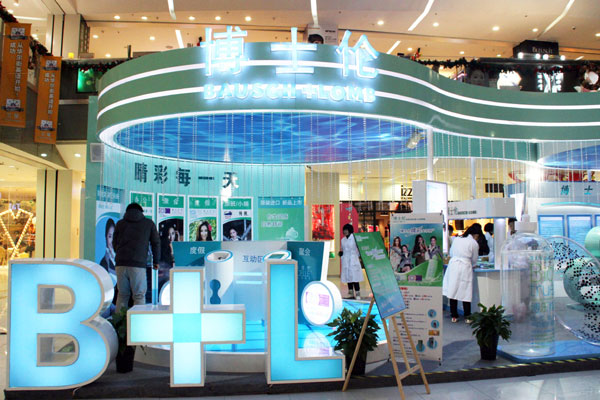 Bausch & Lomb Inc's display at a mall in Beijing.The company has been fined for price fixing, along with other contact lens and eyeglass manufacturers. Provided to China Daily
Johnson & Johnson Inc and Bausch & Lomb Inc were among several contact lens and eyeglass manufacturers fined a total of 19.6 million yuan ($3.1 million) for price fixing. It's the latest antitrust investigation by China's top economic planner.
Some eyeglass manufacturers required dealers to adhere to suggested retail prices for contact lenses, while some contact lens companies told retailers to hold promotional activities such as "three for one" offers all year round to maintain resale prices, the National Development and Reform Commission said in an online statement on Thursday.
Based on the statement, the companies pursued vertical price-fixing, said Huang Yong, a professor at the University of International Business and Economics in Beijing. He said the case is similar to previous cases involving infant formula and liquor.
He is also deputy head of the experts panel at the Anti-monopoly Committee of the State Council, China's cabinet.
Last August, six infant formula makers were fined about $110 million in total for entering into contracts with distributors to ensure a minimum sales price. Prior to that, domestic premium distillers Kweichow Moutai Co Ltd and Wuliangye Yibin Co Ltd were fined a total of about $71 million by the NDRC for resale price maintenance.
Compared with the previous cases, the penalties for the contact lens and eyeglass manufacturers are relatively low, said Huang. Under the antitrust law, violators should be fined 1 to 10 percent of total sales in the relevant market for the previous year.
Shanghai Essilor Optical Co was fined 2 percent of its total sales for the previous year, or 8.79 million yuan, the highest fine among the companies.
"Although it is too soon to say whether the investigation and penalties will really drive prices down, efforts to support a competitive market are beneficial for China's eyeglass market, which has been overpriced for a long time," said Huang.
Other companies involved include Nikon Corp and Carl Zeiss Meditec AG, both of which were investigated and penalized.
Hoya Corp and Shanghai Weicon Optics Co weren't penalized because they had voluntarily reported monopolistic practices and changed their own practices, said the statement.
The companies were unable to be reached for immediate comment.
To avoid potential legal risks, all companies doing business in China - foreign and domestic - should ensure their compliance with the laws covering monopoly behavior, said Huang.